Indonesia Chapter - Members and News

* AAPM Board of Standards is a TUV Accredited Body which is ISO 29990 & 9001 Certified
Chapter President - Dr. Ir. Fauzi Hasan MM, MBA, CISA, CISM, CISSP, CGEIT, CRICS, SSCP, ITIL, PMP, MDCP, CDCE, CSQE, BCMP, Prince2, APICS, IPCMI, CEH, CISCP. - Hon. Global Advisory Board.
NEWS - TelKom Indonesia completes Certification Courses.
Programs in Alliance and Accredited with the BNSP Credentialing Agency.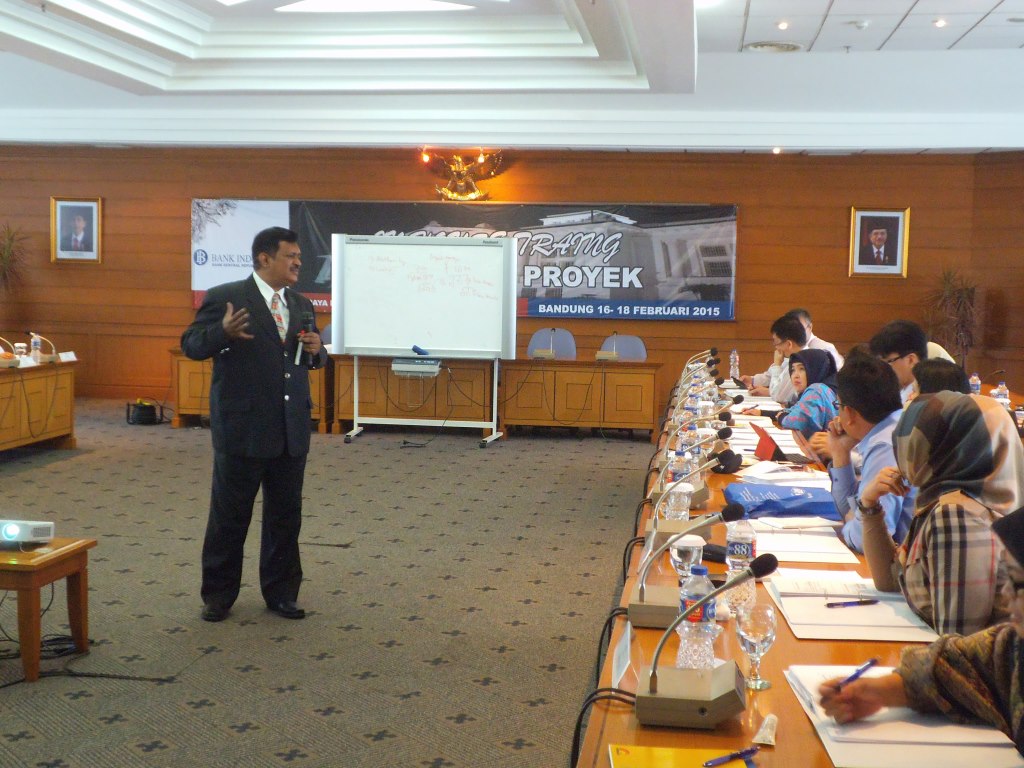 PT. SOLUSI BISNIS DAN KONSULTANSI INDONESIA as the Accredited and Authorized Partner of AAPM and AAFM.
Location:
Komplek IPB
Loji- Sindang Barang
Bogor-West Java.
Indonesia.

Phone:

(0251) 8310930



Certifications Available:
CIPM Certified International Project Manager ®
MPM Master Project Manager ®
GAFM and AAPM Approved by Indonesia Governmental Credentialing Authority.
New Fellows and Certified Members for AAPM Indonesia
1 Susi Oktriyani Master Project Manager
2 Yono Maulana Master Project Manager
3 Dotty Wimpertiwi Master Project Manager
4 Ifwandi Master Project Manager
5 Erick Hariyona Master Project Manager
6 Susiana Dewi Ratih Master Project Manager
7 Mansur Master Project Manager
8 Irwan Abdullah Master Project Manager
9 Fauzi Hasan Master Project Manager
10 Nico Rudolf Master Project Manager
11 Iwan Kurniawan Master Project Manager
12 Arya Adhi Nugraha Master Project Manager
13 Suhaerudin Master Project Manager
14 Imam Indra Gunawan Master Project Manager
15 Doni Purnomo Master Project Manager
16 Suyogo Parbowo Master Project Manager
17 Untung Suradiono Master Project Manager
18 Arief Mustaqim Master Project Manager
19 Try Edy Asmara Master Project Manager
20 Muhammad Ferhat Master Project Manager
21 I Wayan Gede Putrayasa Master Project Manager
22 Ali Imran Master Project Manager
23 Yunan Fatoni Master Project Manager
24 Tri Haryanto Master Project Manager
25 Nopriadi Master Project Manager
26 Eko Syamsuddin Hasrito Master Project Manager
27 Hari Murti Wirawan Master Project Manager
28 Eka Yudhistira Murliawan Master Project Manager
29 Arief Prabawa Putra Master Project Manager
30 Noval Tajudin Acredited Supply Chain Analyst
31 Chamad Rochmana Acredited Supply Chain Analyst
32 Andi Hernandi Acredited Supply Chain Analyst
33 Firdaus Karim Acredited Supply Chain Analyst
34 Parasmatua Siregar Acredited Supply Chain Analyst
35 R. Teguh Sulistyohadi Acredited Supply Chain Analyst
36 Tri Ratmojo Acredited Supply Chain Analyst
37 Sri Mahendradata Acredited Supply Chain Analyst
38 R. Febriansyah. TR Acredited Supply Chain Analyst
39 Widoyo Yakti Acredited Supply Chain Analyst
40 M.Novemidiansyah Acredited Supply Chain Analyst
41 Posma Silitonga Master Project Manager
42 M. Eryan Master Project Manager
43 HB. Susilotomo Master Project Manager
44 Chamad Rochmana Master Project Manager
45 M. Emil Salim Master Project Manager
46 Sopwan Haris Master Project Manager
47 Yayan Sofyan Master Project Manager
48 Ananto Harimawan Master Project Manager
49 Jati Pratomo Master Project Manager
50 Hotman F. Sitanggang Master Project Manager
51 Ongko Wiyono Master Project Manager
52 Haryono Master Project Manager
53 Atok Kuntarto Master Project Manager
54 Sony Feriawan Master Project Manager
55 Ilham Nugroho Master Project Manager
56 Efvy Zamidra Zam Master Project Manager
57 Widoyo Yakti Master Project Manager
58 Benny Nugroho Budi Priyanto Master Project Manager
59 Made Sukendria Master Project Manager
60 FX. Budi Widyatmoko Master Project Manager
61 Effek Alamsyah Master Project Manager
62 Tresia Mahaputeri Nusantari Master Project Manager
63 Estiningtyas Nugraheni Master Project Manager
64 Lawrens Certified Hospitality Manager
65 Nandan Limakrisna Certified Marketing Analyst
66 Hary Budiarto Certified International Information SystemAuditor
67 Iman Budiyanto Certified Marketing Analyst
68 Suseno Arianto Certified Marketing Analyst
69 Yusup Suhara Certified Marketing Analyst
70 Wirawan Leksono Acredited Supply Chain Analyst
71 Rikrik Supriyadi Acredited Supply Chain Analyst
72 Adian Gogo Hutagalung Acredited Supply Chain Analyst
73 Roy Urich Kusumawardana Acredited Supply Chain Analyst
74 Agus Dermawan Acredited Supply Chain Analyst
75 Rafida Wardana Acredited Supply Chain Analyst
76 Ade Nizar AM Acredited Supply Chain Analyst
77 Arifin Acredited Supply Chain Analyst
78 Choirul Basuni Acredited Supply Chain Analyst
79 Suryono Acredited Supply Chain Analyst
80 Elias A. Ginting Acredited Supply Chain Analyst
81 Abdul Rahman HS Acredited Supply Chain Analyst
82 Noval Tajudin Certified Marketing Analyst
83 Dudung Duhara Master Project Manager
84 M Sigit Lestanto Master Project Manager
85 Abdul Ghofur Master Project Manager
86 Grandys Frieska Prassida Certified International Information SystemAuditor
87 Amna Shifia Nisafani Certified International Information SystemAuditor
88 Alfajri Ismail Master Project Manager
89 Pradnya Paramita Master Project Manager
90 Nina Kirana laksmi Certified International Project Manager
91 Maritza Al Iradah Certified International Project Manager
92 Dedy Kurniawan Certified International Project Manager
93 Elisa Kusrini Certified International Project Manager
94 Toriq Arif Ghuzdewan Certified International Project Manager
95 Wahyu Bintoro Certified International Project Manager
96 Widarto Sutrisno Certified International Project Manager
97 Stevanus Herry Certified International Project Manager
98 Dian Erythrica Yullyanti Master Project Manager
99 Azil Awaludin Master Project Manager
100 Narwoko Master Project Manager
101 Arif Sumarlin Sasmita Master Project Manager
102 Wahyu Hidayat Sulistyawan Master Project Manager
103 Surya Widyanto Certified Professional in Business Continuity Plan
104 Noval Tajudin Certified Management Accountant
105 Wisnuaji Chartered and Certified Human Resource Analyst
106 Narendra Prabhawa Mukti Supangat Chartered and Certified Human Resource Analyst
107 Fitri Ayunda Permatasari Chartered and Certified Human Resource Analyst
108 Ardi Yudistira Chartered and Certified Human Resource Analyst
109 Chandra Ayu Dewi Chartered and Certified Human Resource Analyst
110 Tekad Wahyono Chartered and Certified Human Resource Analyst
111 Basyori Buyung Chartered and Certified Human Resource Analyst
112 MC Maryati Chartered and Certified Human Resource Analyst
113 Lucky B Pangau Chartered and Certified Human Resource Analyst
114 Dony Rivai Master Project Manager
115 Ratna Widiastuti Certified Marketing Analyst
116 Romy Di Putra Certified Marketing Analyst
117 Dewi Setiaty Karya Certified Marketing Analyst
118 Novellindo Pahlevi Master Project Manager
119 Sunarto Master Project Manager
120 Yiyin Irfan Fahmi Master Project Manager
121 Teguh Tri Warso Master Project Manager
122 Anang Barnea Arrayyansyah Master Project Manager
123 Hikmatul Hayat Master Project Manager
124 Alfin Bahtiar Master Project Manager
125 Wifiksana Suhendra Master Project Manager
126 Heri Setiwanto Master Project Manager
127 John Veri Master Project Manager
128 Sarjon Defit Master Project Manager
129 Zulfikri Latief Master Project Manager
130 Dedi Riswandi Master Project Manager
131 Sindu Irawan Master Project Manager
132 M. Sofyan Nurdin Master Project Manager
133 Syahriza Prinka Master Project Manager
134 Suhardi Master Project Manager
135 Oki Nandoko Rakhim Master Project Manager
136 Nendang Retno Djuwita Master Project Manager
137 Pambudi Wahyu Basuki Master Project Manager
138 Agus Hamzah Master Project Manager
139 Dimas Anugrah Prakoso Master Project Manager
140 Rizky Maulana Arief Master Project Manager
141 Toefany Prakarsa Parmulyawan Master Project Manager
142 Rakhmat Aji Jauhari Master Project Manager
143 Eriyawan Master Project Manager
144 Adi Mulyanto Master Project Manager
145 Yudistira Dwi Wardhana Asnar Master Project Manager
146 Indra Lingga Setia Putra Master Project Manager
147 Bahrullah Akbar Master Project Manager
148 Diana Susianti Moro Master Project Manager
149 Maruli Tua Tampubolon Master Project Manager
150 Mahendra Ramadhan Sonday Master Project Manager
151 Rio Harcan Master Project Manager
152 R. Mohammad Arie Ariandhana Master Project Manager
153 Susi Oktriyani Master Project Manager
154 Yono Maulana Master Project Manager
155 Dotty Wimpertiwi Master Project Manager
156 Abdul Firman Radjak Master Project Manager
157 Moh. Ardie Latief Master Project Manager
158 Pinuji Prasetyaningtyas Master Project Manager
159 Jumiati Master Project Manager
160 Agus Arif Algahara Master Project Manager
161 Hendra Mayasdi Master Project Manager
162 Hening Handayani Master Project Manager
163 Pradnya Paramita Master Project Manager
164 Andi Ira Damayanti Master Project Manager
165 Muhudin Abukar Mursal Master Project Manager
166 Abdul Hakim Awke Tarabi Master Project Manager
167 Ahmed Mohamed Hussein Master Project Manager
168 Mohamed Abdurahman Hussein Master Project Manager
169 Semly Saalino Master Project Manager
170 Setyo Nugroho Master Project Manager
171 Muhamad Isnaini Saputro Master Project Manager
172 Defry Reksavagita Master Project Manager
173 Syarmad Haning Master Project Manager
174 August Hoth Mercyon Purba Master Project Manager
175 Muhammad Rizal Master Project Manager
176 I Dewa Made Agus Pramana Master Project Manager
177 Admiral Dasrin Master Project Manager
178 Retno Kurniawati Master Project Manager
179 Krshna Sulanjana Master Project Manager
180 Siti Choiriana Master Project Manager
181 Emanuel Febry Djatmiko Adji Master Project Manager
182 Eka Yuli N Master Project Manager
183 Yunias Adhe Putri Master Project Manager
184 Rakhman Nur Master Project Manager
185 Zatiyas Master Project Manager
186 Sudirman Master Project Manager
187 Ariyanto Agus Setyawan Master Project Manager
188 Wegig Benggala Master Project Manager
189 Acep Supriyadi Master Project Manager
190 Agus Achdiyatna Master Project Manager
191 Sopiansyah Master Project Manager
192 Anang Barnea Arrayyansyah Master Project Manager
193 Dani Pradana Master Project Manager
194 Muh. Roni Indarto Certified Financial Risk Manager
195 FX. Sugiyanto Certified Financial Risk Manager
196 Mutamimah Certified Financial Risk Manager
197 Budi Limansubroto Master Project Manager (MPM)
198 Michael Utomo Master Project Manager (MPM) 199 R. Sahedhy Noor Certified Human Resource Analyst (CHRA)
200 Kunto Wibisono Certified Human Resource Analyst (CHRA)
201 Nur Wening Certified Human Resource Analyst (CHRA)
202 Meswantri Master Project Manager (MPM)
203 Among Waluyo Certified International Project Manager (CIPM)
204 Hannibal Nasserie Certified International Project Manager (CIPM)
205 Among Waluyo Certified Human Resource Analyst (CHRA)
206 Meswantri Certified Human Resource Analyst (CHRA)
207 Hannibal Nasserie Master Quality Manager (MQM)
208 Dudung Duhara Master Quality Manager (MQM)
209 Dedi Riswandi Certified Marketing Analyst (CMA)
210 Sandy Martsanto Master Project Manager (MPM)
211 M. Sofyan Nurdin Certified Marketing Analyst (CMA)
212 Andy Wisnugroho Master Project Manager (MPM)
213 Trisdarisa Dwi Novianto Soedarto Master Quality Manager (MQM)
214 Eko Budiyanto Master Project Manager (MPM)
215 Chandra Basuki Master Project Manager (MPM)
216 Erlin Listiyaningsih Master Project Manager (MPM)
217 Deddy Tedjasukmana Master Project Manager (MPM)
218 Imelda Rachmawati Master Project Manager (MPM)
219 Rahmad Ramadhan Master Project Manager (MPM)
220 Yenny Very Handayani Management Consultant Professional (MCP)
221 Hendra Setiawan Master project Manager (MPM)
222 Dwi Prijono Soesanto Master project Manager (MPM
223 Noval Tajudin Management Consultant Professional (MCP)
224 Rio Seto Wardhana Master Project Manager (MPM)
225 R. Febriansyah T. Rodjak Master Project Manager (MPM)
225 Bambang Tri Cahyono (Certified Marketing Analyst) CMA
227 Besar Agung Martono Master Project Manager (MPM)
228 Albert Hasudungan Sitorus Master Project Manager (MPM)
229 Fakih Usman Master Project Manager (MPM)
230 Djoko Sri Prihanto Certified International Project Manager (CIPM)
231 Surachman Master Quality Manager (MQM)
232 Tiara Asmara Dewi Management Consultant Professional (MCP)
233 Meswantri Management Consultant Professional (MCP)
234 Franky Sya'bandriawan Master Project Manager (MPM)
235 Adriza Certified Marketing Analyst (CMA)
236 Adriza Master Project Manager (MPM)
237 Hapzi Ali Certified Marketing Analyst (CMA)
238 Effek Alamsyah Master Consultant Professional (MCP)
239 R. Andy Herdanarto Certified Asset Management Professional (CAMP)
240 Herman Chartered and Certified Human Resources Analyst
241 Hendra Mahendrata Master Project Manager (MPM)
242 Mohamad Zuber Master Project Manager (MPM)
243 Yohan Effenddy Sunyoto Master Project Manager (MPM)
244 Imelda Chartered Health Care Consultant
245 Herwanto Master Project Manager (MPM)
246 Aris Susanto Master Project Manager (MPM)
247 Sri Rezeki Mangement Consultant Professional (MCP)
248 Lili Suryati Accredited Management Accountant (AMA)
249 Guntur Besar Certified International Project Manager (CIPM)
250 Liliana Puspa Sari Chartered Health Care Consultant
251 Robert lumban Haryono Simaremare Master Quality Manager (MQM)
252 Hendra Mahendrata Certified Project Risk Manager (CPRM)
253 Muhammad Fauzi Certified Planning Engineer (CPE)
254 Mikra Mawardana Master Project Manager (MPM)
255 R. Andy Herdanarto Master Project Manager (MPM)
256 Agus Mansur Master Project Manager (MPM)
257 Muhammad Ragil Suryoputro Master Project Manager (MPM)
258 Harwati Master Project Manager (MPM)
259 Imam Djati Widodo Master Project Manager (MPM)
260 Yuli Agusti Rochman Master Project Manager (MPM)
261 Muhammad Fauzi Certified International Project Manager (CIPM)
262 Robert Lumban Haryono Simaremare Certified International Project Manager (CIPM)
263 Bayu Prawira Hie Chartered Human Resource Analyst (CHRA)
264 Mimi Marlina Certified Marketing Analyst (CMA)
265 Andriasan Sudarso Certified Marketing Analyst (CMA)
266 Lili Suryati Certified International Tax Analyst (CITA)
267 Sugeng Prayitno Master Project Manager (MPM)
268 Harris Gunawan Master Project Manager (MPM)
269 Purwanto Andi Meyanto Master Project Manager (MPM)
270 Imam Agung Prasetyo Master Project Manager (MPM)
271 Nur Ahmad Sjaefuloh Master Project Manager (MPM)
272 Hendra Pujiarto Master Project Manager (MPM)
273 Rudi Kurniawan Master Project Manager (MPM)
274 Dwi Supriandi Master Project Manager (MPM)
275 Rakhman Yossi Herfanda Master Project Manager (MPM)
276 Bambang Setyajidi Certified Marketing Analyst (CMA)
277 Farid Mardin Certified Asset Management Professional (CAMP)
278 Andi Lukman Hakim Master Project Manager (MPM)
279 Ahmad Amin Master Data Center Professional (MDCP)
280 Gilang Sanggraha Master Data Center Professional (MDCP)
281 Dedi Budiman Certified Marketing Analyst (CMA) 282 Gema Merdeka Goeyardi Chartered Wealth Manager(CWM)
283 Yoga Goeyardi Chartered Wealth Manager(CWM)
284 Yorita Goeyardi Chartered Wealth Manager(CWM)
285 Anthonius Sedyason Chartered Wealth Manager(CWM)
286 Natanael Tulus Parhorasan Chartered Wealth Manager(CWM)
287 Akhmad Bakhtiar Master Project Manager (MPM)
288 Nugroho Adi Master Project Manager (MPM)
289 Rohmat Abadi Master Project Manager (MPM)
290 Muhamad Hary Prabowo Master Project Manager (MPM)
291 Sandi Krisna Wiliandi Master Project Manager (MPM)
292 Monica Anggraeni Certified Human Resource Analyst (CHRA)
293 Lisman Miranda Certified Human Resource Analyst (CHRA)
294 Andi Deby Grecia Certified Human Resource Analyst (CHRA)
295 Evy Susanti Master Project Manager (MPM) Chartered Wealth Manager (CWM)
296 Hary Febriansyah Chartered and Certified Human Resource Analyst (CHRA)
297 Wiria Amarini Chartered and Certified Human Resource Analyst (CHRA)
298 Danang Mulyadipa Suratno Certified International Project Manager (CIPM)
299 Endang Kurniawan Certified International Project Manager (CIPM)
300 Mohammad Faruq Afif Certified International Project Manager (CIPM)
301 Digdoyo Oktapriandi Certified International Project Manager (CIPM)
302 Fauziah Amalia Devi Certified International Project Manager (CIPM)
303 Rahmad Hidayat Certified International Project Manager (CIPM)
304 Affan Rifa'I Master Project Manager (MPM)
305 Atik Febriani Master Project Manager (MPM) 306 Edi Iskandar Certified International Information System Auditor (CIISA) 307 Elvie Maria Chartered and Certified Human Resource Analyst (CHRA)
308 Hendri Sembiring Chartered and Certified Human Resource Analyst (CHRA)
309 Maretta Ginting Chartered and Certified Human Resource Analyst (CHRA)
310 Kiki Farida Ferine Chartered and Certified Human Resource Analyst (CHRA)
311 Lusiah Certified Marketing Analyst (CMA)
312 Djoni Wongso Certified International Tax Analyst (CITA)
313 Tintin Maria Certified International Tax Analyst (CITA)
314 Petrus Gani Accredited Management Accountant (AMA)
315 Agung Ramadhansyah Master Project Manager (MPM)

316 Muhamad Akhyar Mahyudin Master Project Manager (MPM)
317 Kresensia Prihastuti Master Data Center Professional (MDCP)
318 Dhanu Hadi Sanjaya Master Data Center Professional (MDCP)
319 Dian Endianingsih Master Project Manager (MPM)
320 Edi Iskandar Certified International Project Manager (CIPM)
321 B. Andreas Mada WK Chartered Wealth Manager (CWM)
322 Endi Roswendi Certified Financial Risk Manager (CFRM)
323 Suksmo Satriyo Pangarso Master Project Manager (MPM)
324 B. Andreas Mada WK Master Project Manager (MPM)
325 Ilhamd Fabillo Accreditted Supply Chain Analyst
326 Badar Murifal Certied Financial Risk Manager (CFRM)
327 Nelwan Zulkarnaeni Accredited Supply Chain Analyst (ASCA)
328 Ida Hindarsah Magister Finance Professional (MFP)
329 Marwan Tangahu Certified International Project Manager ( CIPM)
330 Aswan Munang Certified International Project Manager ( CIPM)
331 Ridho Bastian Certified International Project Manager ( CIPM)
332 Vembri Noor Helia Certified International Project Manager ( CIPM)
333 Suci Miranda Certified International Project Manager ( CIPM)
334 Novenda Kartika Putrianto Certified International Project Manager ( CIPM)
335 Qurtubi Certified International Project Manager ( CIPM)
336 Fety Ilma Rahmillah Certified International Project Manager ( CIPM)
337 Ahmad Zakiyuddin Certified International Project Manager ( CIPM)
338 Bambang Setyajidi Certified International Project Manager ( CIPM)
339 Yanuardi Sutantio Master Project Manager (MPM
340 Dwi Nugroho Adi Master Project Manager (MPM
341 Yosaphat Pandu Suryoputranto Master Quality Manager (MQM)
342 Roni Hartawan Ariyanto Master Quality Manager (MQM)
343 Yosaphat Pandu Suryoputranto Certified Facility Manager (CFM)
344 Roni Hartawan Ariyanto Master Project Manager (MPM)
345 Dinda Andrayana Certified Information Technologi Service Management Professional (CITMP)
346 Hairudin DJ Certified Information Technologi Service Management Professional (CITMP)
347 Hairudin DJ Master Project Manager (MPM
348 Dinda Andrayana Certified International Information System Auditor (CIISA)
349 Eko Supriyanto Master Data Center Professional (MDCP)
350 Jumfadhli Master Data Center Professional (MDCP)
351 Eko Supriyatno Master Data Center Professional (MDCP)
352 Leli Halili Master Data Center Professional (MDCP) 353 Hery Certified Financial Risk Manager (CFRM)-AAFM
354 Aulia Akbar Ramadhan Certified Business Analytic Professional (CBAP)-AAPM
355 Pangeran Hery Fransiskus Marpaung Certified International Project Manager (CIPM)
356 George Ibrahim Certified Marketing Analyst (CMA)-AAPM
357 Rafika Novantara Certified Marketing Analyst (CMA)-AAPM
358 Muhamad Resa Certified Marketing Analyst (CMA)-AAPM
359 Ade Kurnia Ayu Muhadir Certified Marketing Analyst (CMA)-AAPM
360 Wenny Ruth Yosephin Manurung Certified Marketing Analyst (CMA)-AAPM
361 R. Wisnu Prio Pamungkas Master Project Manager (MPM)-AAPM
362 Ross Giuffrida Master Project Manager (MPM)-AAPM
363 Aliza Ardana Certified International Project Manager (CIPM)-AAPM
364 Abdullah 'Azzam Certified International Project Manager (CIPM)-AAPM
365 Muchammad Sugarindra Certified International Project Manager (CIPM)-AAPM
366 Dian Janari Certified International Project Manager (CIPM)-AAPM
367 Jaja Suteja Designated Business Analys (DBA)-AAFM
368 Syamsu Alam Certified International Project Manager (CIPM)-AAPM
369 Musran Munizu Certified International Project Manager (CIPM)-AAPM
370 Abdul Rahman Kadir Certified International Project Manager (CIPM)-AAPM
371 Tendy Wato Certified International Information System Auditor (CIISA)-AAPM
372 Tommy Tan Certified International Information System Auditor (CIISA)-AAPM
373 Hery Certified International Information System Auditor (CIISA)-AAPM
374 Agus Mansur Certified Human Resource Analyst (CHRA)-AAPM
375 Nashrullah Setiawan Certified Human Resource Analyst (CHRA)-AAPM
376 Qurtubi Certified Human Resource Analyst (CHRA)-AAPM
377 Tendy Wato Certified Management Accountant (CMA)-AAFM
378 Tommy Tan Certified Management Accountant (CMA)-AAFM
379 July Certified Management Accountant (CMA)-AAFM
380 July Certified International Information System Auditor (CIISA)-AAPM 381 Reni Rianti Certified Business Analytic Professional (CBAP)-AAPM
382 Muhammad Zulkifli Certified Business Analytic Professional (CBAP)-AAPM
384 Dodik Ichrom Roesanto Certified Business Analytic Professional (CBAP)-AAPM
385 Agus Supriatna Certified Business Analytic Professional (CBAP)-AAPM
386 Jenny Oetomo Certified Business Analytic Professional (CBAP)-AAPM
387 Tiberius Leo Agung Certified Business Analytic Professional (CBAP)-AAPM
388 Muhammad Rismanda Certified Business Analytic Professional (CBAP)-AAPM
389 Asep Gunawan Certified Business Analytic Professional (CBAP)-AAPM
390 Abdul Bari Rahmat Certified Business Analytic Professional (CBAP)-AAPM
391 Dina Kusuma Wahyuni Certified Business Analytic Professional (CBAP)-AAPM
392 Hery Certified Finacial Risk Manager (CFRM)-AAFM 393 T. Subarsyah Sumadikara Certified International Law Analyst-CILA
394 Doddy Hertanto Ceritified Business Analytic Professional (CBAP)-AAPM
395 Muhammad Masyhudi Ceritified Business Analytic Professional( CBAP)-AAPM
396 Rizki Satya Utami Ceritified Business Analytic Professional (CBAP)-AAPM
397 Agus Soleh Ceritified Business Analytic Professional (CBAP)-AAPM
398 Wim Mudjiono Ceritified Business Analytic Professional (CBAP)-AAPM
399 Lasmisanti Ceritified Business Analytic Professional (CBAP)-AAPM
400 Faizal Aidul Fitri Ceritified Business Analyticd Professional (CBAP)-AAPM
401 Heru Wijaya Ceritified Business Analytic Professional (CBAP)-AAPM
402 Ciput Gatot Agus Saksomo Ceritified Business Analytic Professional (CBAP)-AAPM
403 Davy Eldy Ceritified Business Analytic Professional (CBAP)-AAPM
404 Syarmad Haning Ceritified Business Analytic Professional (CBAP)-AAPM
405 Deden Ramdan Designated Business Analyst (DBA)-AAPM
406 Ratno Purnomo Certified Human Resources Analyst (CHRA)-AAPM
407 M. Ayodya Satrya Certified Business Analytic Professional-(CBAP)-AAPM
408 Ruli Satya Dharma Certified Business Analytic Professional-(CBAP)-AAPM
409 Harry Susatyo Certified Business Analytic Professional-(CBAP)-AAPM
410 Eko Agus Brahmantyo Certified Business Analytic Professional-(CBAP)-AAPM
411 Apri Fajar Kurniawan Certified Business Analytic Professional-(CBAP)-AAPM
412 Deda Budianto Certified Business Analytic Professional-(CBAP)-AAPM
413 Rusmita Lelyanawati Certified Business Analytic Professional-(CBAP)-AAPM
414 Niken Pratiwi Certified Business Analytic Professional-(CBAP)-AAPM
415 Raden Ary Relyman Certified Business Analytic Professional-(CBAP)-AAPM
416 Dini Nuzulia Rahmah Certified Business Analytic Professional-(CBAP)-AAPM
417 Eni Riawati Sebayang Certified Business Analytic Professional-(CBAP)-AAPM
418 Dora Primura Certified Marketing Analyst (CMA)-AAPM
419 Utami Surya Putri Certified Marketing Analyst (CMA)-AAPM
420 Detriana Margita Sari Certified Marketing Analyst (CMA)-AAPM
421 Risant Rizqi Dzulauzan Certified Marketing Analyst (CMA)-AAPM
422 Ilham Muhammad Certified Marketing Analyst (CMA)-AAPM
423 Zein Nofiandi Certified Marketing Analyst (CMA)-AAPM
424 Indra Pramono Master Data Center Professional (MDCP)-AAPM
425 Muhammad Qurthuby Certified International Project Manager (CIPM)-AAPM
426 Angga Haripurna Certified International Project Manager (CIPM)-AAPM
427 Adi Patriyadi Master Data Center Professional (MDCP)-AAPM
428 Supono Daruyuwono Mater Project Manager (MPM)-AAPM
429 Arief Marzuki Certfied Planning Engineer- (CPE)-AAPM
430 Supono Daruyuwono Certfied Planning Engineer-AAPM
431 Iyan Irdiyansyah Certified Human Resource Analyst (CHRA)-AAPM
432 Win Sukardi Master Quality Manager (MQM)-AAPM
433 Yulnofrins Napilus Master Quality Manager (MQM)-AAPM
434 Muhammad Yunus Master Quality Manager (MQM)-AAPM
435 Natanel Tulus Master Financial Professional (MFP)-AAFM
436 M. Rudy Sachridi Certified Business Process Mapping Professional (CBPMP)-AAPM
437 Ahmad Andhika Putra Certified Business Process Mapping Professional (CBPMP)-AAPM
438 M. Rudy Sachridi Master Project Manager (MPM)- AAPM
439 Ahmad Andhika Putra Master Project Manager (MPM)- AAPM
440 Era Yuwono Certified Management Accountant (CMA)- AAFM
441 Arum Angesti Certified Property Manager Professional (CPMP)-AAPM
442 Anang Priyono Certified Property Manager Professional (CPMP)-AAPM
443 I Wayan Suarma Certified Asset Manager Professional- (CAMP)-AAPM
444 Ahmad Sholikhun R. Certified Asset Manager Professional- CAMP
445 Revi Agustian Certified Asset Manager Professional- (CAMP)-AAPM
446 Eka Rosina Korelia Certified Asset Manager Professional- (CAMP)-AAPM 467 Ari Wijaya, Accredited Supply Chain Analyst – (ASCA)-AAPM
468 Pudji Setyawan Subyantoro, Accredited Supply Chain Analyst – (ASCA)-AAPM
469 Tutug Sri Jatmiko, Accredited Supply Chain Analyst – (ASCA)-AAPM
470 Win Sukardi, Accredited Supply Chain Analyst – (ASCA)- AAPM
471 Mohammad Helmi Novriansyah, Certified Business Analytic Professional-(CBAP)-AAPM
472 Husninatul Ghassani, Certified Human Resource Analyst (CHRA)-AAPM
473 Auditya Warta Kusuma , Certified Human Resource Analyst (CHRA)-AAPM
474 Rinto Saiful, Certified Human Resource Analyst (CHRA)-AAPM
475 Ana Mariana, Certified Human Resource Analyst (CHRA)-AAPM
476 RR Rieka Febriyanti Hutami, Certified International Project Manager (CIPM)-AAPM
477 Herry Irawan, Certified International Project Manager (CIPM)-AAPM
478 Mokhamad zaim Nurhidayat, Certified International Project Manager (CIPM)-AAPM
479 Dodik Priyanto, Certified International Project Manager (CIPM)-AAPM
480 Ahmad Hery Sultoni, Certified International Project Manager (CIPM)-AAPM
481 Ahmad Hery Sultoni, Master Quality Manager (MQM)- AAPM
482 Indramawan, Accredited Supply Chain Analyst – (ASCA)-AAPM
483 Tobias Kusnawan, Accredited Supply Chain Analyst – (ASCA)-AAPM
484 Parama Kartika Dewa SP, Accredited Supply Chain Analyst – (ASCA)-AAPM
485 Faidil Hadi, Certified in Information Technology Service Management (CITSM)-AAPM
486 Rien Nisa, Certified in Information Technology Service Management (CITSM)-AAPM
487 Ceria Ganinda Hapsari, Certified in Information Technology Service Management (CITSM)-AAPM
488 Krshna Sulanjana, Certified in Information Technology Service Management (CITSM)-AAPM
489 Muhammad Mahrus Syamsurrijal, Certified in Information Technology Service Management (CITSM)-AAPM
490 Giri Agung Prastawa, Certified in Information Technology Service Management (CITSM)-AAPM
491 Adhi Prasetio, Certified in Information Technology Service Management (CITSM)-AAPM
492 Ramadhan Wijayanto, Certified in Information Technology Service Management (CITSM)-AAPM
493 Hary Mahendra Eka Wibawa, Certified in Information Technology Service Management (CITSM)-AAPM
494 Haposan Turnip, Certified in Information Technology Service Management (CITSM)-AAPM
495 Fadjar Ramadhan, Certified in Information Technology Service Management (CITSM)-AAPM
496 Haposan Turnip, Certified in Information Technology Service Management (CITSM)-AAPM
497 Fadjar Ramadhan, Certified in Information Technology Service Management (CITSM)-AAPM
498 Puti Harifia Amanah, Certified in Information Technology Service Management (CITSM)-AAPM
499 Riski Pratama, Certified in Information Technology Service Management (CITSM)-AAPM
500 Muhammad Fatoni, Certified in Information Technology Service Management (CITSM)-AAPM
501 Dinur Rahmani Sadat, Certified in Information Technology Service Management (CITSM)-AAPM
502 Terry Safiria Ramadhani, Certified in Information Technology Service Management (CITSM)-AAPM
503 Prima Arti Hastuti, Certified in Information Technology Service Management (CITSM)-AAPM
504 Muhammad Rachmad, Certified in Information Technology Service Management (CITSM)-AAPM
505 Rahadiany Rachmawati, Certified in Information Technology Service Management (CITSM)-AAPM 506 BRIGITA DIANZA ALVYNTIA, CITSM Certified in Information Technology Service Management
507 MOHAMMAD RIZKY ADRIAN , CITSM Certified in Information Technology Service Management
508 TRIHARTOTO WIDIJARTO , CITSM Certified in Information Technology Service Management
509 MUHAMMAD RAKHMADANI MY , CITSM Certified in Information Technology Service Management
510 DEDI JUNIARDI DAMSIK , CITSM Certified in Information Technology Service Management
511 MAYANGSEKAR.A , CITSM Certified in Information Technology Service Management
512 ERNY MURNIASIH, CITSM Certified in Information Technology Service Management
513 BAYU DHIAN SASONGKO, CITSM Certified in Information Technology Service Management
514 DEDY RISTANTO , CITSM Certified in Information Technology Service Management
515 DODIK ICHROM RESANTO, CITSM Certified in Information Technology Service Management
516 RENI RIANTI, CITSM Certified in Information Technology Service Management
517 ERIKA CHRISTINA SIRAIT, CITSM Certified in Information Technology Service Management
518 RIZKI SATYA UTAMI, CITSM Certified in Information Technology Service Management
519 CIPUT GATOT AGUS SAKSOMO, CITSM Certified in Information Technology Service Management 520 Gede Ngurah Jayanti Nanda Laksana Master Project Manager (MPM)
521 Andri Yana Rinwardi Master Data Center Professional (MDCP)
522 Arif Gunanto Master Data Center Professional (MDCP)
523 Dzikrilla Qalbi Certified Business Analytic Professional-(CBAP)
524 Nindya Kusuma Wardhani Certified Business Analytic Professional-(CBAP)
525 Arvian Pandu Wirawan Certified Business Analytic Professional-(CBAP)
526 Radita Ali Putra Certified Business Analytic Professional-(CBAP)
527 Aditya Herlambang Certified Business Analytic Professional-(CBAP)
528 Muhammad Raessal Danang Sukoraharjo Certified Business Analytic Professional-(CBAP)
529 Melani Muchlis Moechtar Certified Business Analytic Professional-(CBAP)
530 Indah Yofanni Certified Business Analytic Professional-(CBAP)
531 Akung Wilis Joko Purboyo Certified Business Analytic Professional-(CBAP)
532 Muhammad Zeid Tsabit Certified Business Analytic Professional-(CBAP)
533 Nina Wiyana Certified in Information Technology Service Management (CITSM)- ITIL Intermediate Level
534 Rita Hartati Hafni Certified in Information Technology Service Management (CITSM)- ITIL Intermediate Level
535 Kurniawan Certified in Information Technology Service Management (CITSM)- ITIL Intermediate Level
536 Hadary Mallafi Certified in Information Technology Service Management (CITSM)- ITIL Intermediate Level
537 Dedy Suryawan Certified in Information Technology Service Management (CITSM)- ITIL Intermediate Level
538 Brahmandi Andria Sastra Certified in Information Technology Service Management (CITSM)- ITIL Intermediate Level
539 Toni Parlagutan Harahap Certified in Information Technology Service Management (CITSM)- ITIL Intermediate Level
540 Muhammad Yusron Nur Shodiq Certified in Information Technology Service Management (CITSM)- ITIL Intermediate Level
541 Uyan Setiawan Askam Certified in Information Technology Service Management (CITSM)- ITIL Intermediate Level
542 Urip Dwisahsono Certified in Information Technology Service Management (CITSM)- ITIL Intermediate Level
543 Arief Wibowo Certified Business Analytic Professional-(CBAP)
544 Muhammad Ilham Syarif Certified Business Analytic Professional-(CBAP)
545 Mohamad Firman Subarkah Certified Business Analytic Professional-(CBAP)
546 Edi Iskandar Certified in Information Technology Service Management (CITSM)- ITIL Foudation Level V3.0
547 Ary Sunantiyo Certified International Project Manager (CIPM)
548 Deri Irawan Certified International Project Manager (CIPM)
549 Aryan Agus Pratama Certified International Project Manager (CIPM)
550 Dwi Yunanto Hermawan Certified International Project Manager (CIPM)
551 Lany Harijanti Certified International Project Manager (CIPM)
552 Dahlia Nur Certified International Project Manager (CIPM)
553 Puput Susanto Certified International Project Manager (CIPM)
554 Regina Locita Pratiwi Certified International Project Manager (CIPM)
555 Luh Putu Wulandari Artha Certified International Project Manager (CIPM)
556 Fita Rizki Utami Certified International Project Manager (CIPM)
557 Novie Juanita Certified International Project Manager (CIPM)
558 Indah Yusari Certified International Project Manager (CIPM)
559 Siska Dewi Noya Certified International Project Manager (CIPM)
560 Henny Irawati Certified International Project Manager (CIPM)
561 IGAA Jackie Viemilawati Certified International Project Manager (CIPM)
562 Suharti Certified International Project Manager (CIPM)
563 Singgih Prayitno Certified International Project Manager (CIPM)
564 Natalia Nugroho Certified International Project Manager (CIPM)
565 Betalevi Utama Certified International Project Manager (CIPM)
566 Pramudio Bastian Kesai Certified International Project Manager (CIPM)
567 Agus Setyo Anto Wibowo Master Quality Manager (MQM)
568 Ersalina Renatra Certified Accredited Project Manager (CAPM)
569 Amer Fadillah Certified Accredited Project Manager (CAPM)
570 Raden Ary Relyman Certified Accredited Project Manager (CAPM)
571 Rahmat Rasyid,ST. Certified Accredited Project Manager (CAPM)
572 Bonny Spencer Certified Accredited Project Manager (CAPM)
573 Andi.F Lapatau Certified Accredited Project Manager (CAPM)
574 Rizal Biruni Certified Accredited Project Manager (CAPM)
575 Bambang Suprayitno Certified Accredited Project Manager (CAPM)
576 Martius Certified Accredited Project Manager (CAPM)
577 Dian Kurnia Rizki Certified Accredited Project Manager (CAPM)
578 Rhesa Nanda Wardhana Certified Accredited Project Manager (CAPM)
579 Ratih Aida Mayangsari Certified Accredited Project Manager (CAPM)
580 Ahmad Wildan Syarwani Certified Accredited Project Manager (CAPM)
581 Yayat Dimyati Certified Accredited Project Manager (CAPM)
582 Teuku Ibnu Sina Certified Accredited Project Manager (CAPM)
583 Ibnu Rokhman Certified International Project Manager (CIPM)
584 Joko Purwoko Master Project Manager (MPM)
585 Handry Mardam Sirulimin Master Project Manager (MPM)
586 Gunadi Sumantri Chartered Risk Manager Professional (CRMP)
587 Danu Sindoro Chartered Risk Manager Professional (CRMP)
588 Rahman Ramadan Chartered Risk Manager Professional (CRMP)
589 Dadang Rusmana Iriadi Chartered Risk Manager Professional (CRMP)
590 Achmad Hidayat Chartered Risk Manager Professional (CRMP)
591 Anton Timur Chartered Risk Manager Professional (CRMP)
592 Anugerah Edo Malikul Alam Chartered Risk Manager Professional (CRMP)
593 Asyraf Thirafi Ramdhani Chartered Risk Manager Professional (CRMP)
594 Julius Robinhood Simanjorang Chartered Risk Manager Professional (CRMP)
595 Aji Sigit Wicaksono Chartered Risk Manager Professional (CRMP)
596 Mike Hernawati Chartered Risk Manager Professional (CRMP)
597 Firman Gunawan Chartered Risk Manager Professional (CRMP)
598 Budi Widjajanto Chartered Risk Manager Professional (CRMP)
599 Dhenny Prasetyo Chartered Risk Manager Professional (CRMP)
600 Yadi Slamet Riyadi Chartered Risk Manager Professional (CRMP)
601 Dedi Suhaedi Chartered Risk Manager Professional (CRMP)
602 Agus Setiyono Chartered Risk Manager Professional (CRMP)
603 Rahmat Sigit Muliana Chartered Risk Manager Professional (CRMP)
604 Nurul Intan Permanasari Certified International Project Manager (CIPM)
605 Hotlan Siagian Accredited Supply Chain Analyst (ASCA)
606 Anggi Sugih Certified in Information Technology Service Management (CITSM)- ITIL Foudation Level V3.0
607 Dody Novriadi Certified in Information Technology Service Management (CITSM)- ITIL Foudation Level V3.0
608 Shinta Wulansari Chartered Strategic Account Manager (CSAM)
609 Gusti Ayu Meliati Chartered Strategic Account Manager (CSAM)
610 Siti Aisyah Nursyamsiyah Chartered Strategic Account Manager (CSAM)
611 Randy Pradana Chartered Strategic Account Manager (CSAM)
612 Tsana Hasti Nabila Chartered Strategic Account Manager (CSAM)
613 Amy Roosita Maryana Chartered Strategic Account Manager (CSAM)
614 Lucky Ismail Lubis Chartered Strategic Account Manager (CSAM)
615 Ninendya Meistarusti Chartered Strategic Account Manager (CSAM)
616 Meivita Adriani Chartered Strategic Account Manager (CSAM)
617 Lucky Fathma Trisnanti Chartered Strategic Account Manager (CSAM)
618 Dwi Wulandari Chartered Strategic Account Manager (CSAM)
619 Thian Juardi Kenny Chartered Strategic Account Manager (CSAM)
620 Andi Andreas Chartered Strategic Account Manager (CSAM)
621 Rosika Kusharfinna Chartered Strategic Account Manager (CSAM)
622 Djoko Setyo Widodo Certified Human Resource Analyst (CHRA)
623 P. Eddy Sanusi Silitonga Certified Human Resource Analyst (CHRA)
624 Dwi Malvino Master Project Manager (MPM)
625 Zerik Patriya Sembada Master Project Manager (MPM)
626 Hernawan Guntoro Master Project Manager (MPM)
627 Randy Arifia Master Project Manager (MPM)
628 Muhamad Nasir Accredited Supply Chain Analyst (ASCA)
629 I Gede Agus Suryadinata Accredited Supply Chain Analyst (ASCA) 630 Muhammad Yunus Amar Certified International Project Manager (CIPM)
631 Wijaya Santosa Certified International Project Manager (CIPM)
632 Rahayu Master Financial Planer (MFP)
633 Wahyu Eko Sunarto Certified Marketing Analyst (CMA)
634 Krisdiastoro Fx,St Certified Business Analytic Professional (CBAP)
635 Abdul Ghony Certified Business Analytic Professional (CBAP)
636 Jati Setiawan D Certified Business Analytic Professional (CBAP)
637 Puspita Sulistyaningrum Certified Business Analytic Professional (CBAP)
638 I Wayan Sukadana Certified Business Analytic Professional (CBAP)
639 Yadi Abdullah Certified Business Analytic Professional (CBAP)
640 Muhammad Hary Zulfahri Certified Business Analytic Professional (CBAP)
641 Muhammad Hary Zulfahri Certified Business Analytic Professional (CBAP)
642 Intan Yusantina Calvianty Certified Business Analytic Professional (CBAP)
643 Utami Nazmi Puspahati Certified Business Analytic Professional (CBAP)
644 Faris Arif Rahman Certified Business Analytic Professional (CBAP)
645 Akhmad Ghozali Certified Business Analytic Professional (CBAP)
646 Sugeng Prayetno Certified Human Resource Analyst (CHRA)
647 Luh Ismayanti Rai Certified Human Resource Analyst (CHRA)
648 Eko Martina Sriwulaningsih Certified Human Resource Analyst (CHRA)
649 Sri Hendawati Certified Human Resource Analyst (CHRA)
650 Cahyo Adi Permana Certified International Project Manager (CIPM)
651 Inka Duzhinka Certified International Project Manager (CIPM)
652 Abdul Ghofar Accredited Supply Chain Analyst-AAPM
653 Erwin Saraswati Accredited Supply Chain Analyst-AAPM
654 Kristin Rosalina Accredited Supply Chain Analyst-AAPM
655 Achmad Zaky Accredited Supply Chain Analyst-AAPM
656 Akie Rusaktiva Rustam Accredited Supply Chain Analyst-AAPM
657 Anita Wijayanti Accredited Supply Chain Analyst-AAPM
658 Yudie Irawan Chartered Strategic Acoount Manager (CSAM)
659 Fajar Ramadhan Chartered Strategic Acoount Manager (CSAM)
660 Dade Early Chartered Strategic Acoount Manager (CSAM)
661 Yuliawan Chartered Strategic Acoount Manager (CSAM)
662 Lizdalia Fatima Da Costa Noronha Chartered Strategic Acoount Manager (CSAM)
663 Rendy Radofara Pratama Chartered Strategic Acoount Manager (CSAM)
664 Nana Sutisna Chartered Strategic Acoount Manager (CSAM)
665 Andrian Haro Certified International Project Manager (CIPM)
666 Ignatius Halim Sugiarto Master Project Manager (MPM)
667 Rendiansyah Master Project Manager (MPM)
668 Dhanu Christianto Master Project Manager (MPM)
669 Atyanti Dyah Prabaswari Accredited Supply Chain Analyst-AAPM
670 Vembri Noor Helia Accredited Supply Chain Analyst-AAPM
671 Suci Miranda Accredited Supply Chain Analyst-AAPM
672 Yuli Agusti Rochman Accredited Supply Chain Analyst-AAPM
673 Joko Sulistio Accredited Supply Chain Analyst-AAPM
674 Andrie Pasca Hendradewa Accredited Supply Chain Analyst-AAPM
675 Kurnia Aria Bima Accredited Supply Chain Analyst-AAPM
676 Kurnia Aria Bima Certified International Project Manager (CIPM)
677 Gimbal Doloksaribu Certified Human Resource Analyst (CHRA)
678 Irwan Widiarso Master Project Manager (MPM)
679 Fariz Cyrus Segovia Master Project Manager (MPM)
680 Yudhi Master Project Manager (MPM)
681 Nico Rudolf Master Project Manager (MPM)
682 Desak Gede Harum Diyatmika Certified Business Process Management Professional (CBPMP) 683 Lenny Christina Nawangsari Accredited Supply Chain Analyst (ASCA)-AAPM
684 Achmad Hidayat Sutawidjaya Accredited Supply Chain Analyst (ASCA)-AAPM
685 Bayu Prihantoko Chartered Asset Manager (CAM)-AAPM
686 Muhammad Sholeh Chartered Asset Manager (CAM)-AAPM
687 Satitihening Juang Annisak Chartered Asset Manager (CAM)-AAPM
688 Muhammad Afham Azri Chartered Asset Manager (CAM)-AAPM
689 Robert Albert Kdise Chartered Asset Manager (CAM)-AAPM
690 Khusnul Khotimah Chartered Asset Manager (CAM)-AAPM
691 Prasetya Ardhana Sarwono Chartered Asset Manager (CAM)-AAPM
692 Azhar Rasyid Firdausi Chartered Asset Manager (CAM)-AAPM
693 Adhi Ksatria Theogapa Chartered Asset Manager (CAM)-AAPM
694 Suwaril Dzahab Nurwan Chartered Asset Manager (CAM)-AAPM
695 Amril Azhar Chartered Asset Manager (CAM)-AAPM
696 Muhammad Hanif Oktavianto Chartered Asset Manager (CAM)-AAPM
697 Machfud Zainudin Chartered Asset Manager (CAM)-AAPM
698 Dede Abdul Rahman Chartered Asset Manager (CAM)-AAPM
699 Ariffin Hanif Certified International project Manager (CIPM)-AAPM
700 Deddy Daryono Certified Human Resource Analyst (CHRA)-AAPM
701 Fernandes Parulian Sinaga Certified in IT Service Management Based on ITIL Foundation V3 (CITSM)-AAPM
702 Muhammad Abdul Ja'far Sidiq Certified in IT Service Management Based on ITIL Foundation V3 (CITSM)-AAPM
703 Carolus Borromeus Widyatmoko Certified in IT Service Management Based on ITIL Foundation V3 (CITSM)-AAPM
704 Dafry Reksavagita Certified in IT Service Management Based on ITIL Foundation V3 (CITSM)-AAPM
705 I Dewa Made Agus Pramana Certified in IT Service Management Based on ITIL Foundation V3 (CITSM)-AAPM
706 Rahadian Farizi Certified in IT Service Management Based on ITIL Foundation V3 (CITSM)-AAPM
707 Bestama Abhi P Certified in IT Service Management Based on ITIL Foundation V3 (CITSM)-AAPM
708 Ika Monica Certified in IT Service Management Based on ITIL Foundation V3 (CITSM)-AAPM
709 Haryo Pradipta Certified in IT Service Management Based on ITIL Foundation V3 (CITSM)-AAPM
710 Muhammad Rizal Certified in IT Service Management Based on ITIL Foundation V3 (CITSM)-AAPM
711 Susanty Judohartono Certified Transfer Pricing Specialist (CTPS)-AAFM
712 Nico Rudolf Certified Project Risk Manager (CPRM)-AAPM
713 Ria Anggraeni Certified Business Analytic Professional (CBAP)-AAPM
714 Githa Kharismawati Certified Business Analytic Professional (CBAP)-AAPM
715 Marietje Manduapessy Certified Business Analytic Professional (CBAP)-AAPM
716 Lunel Candra Certified Business Analytic Professional (CBAP)-AAPM
717 I Ketut Suwetja Darsana Certified Business Analytic Professional (CBAP)-AAPM
718 Rian Handono Certified Business Analytic Professional (CBAP)-AAPM
719 Brahmandi A S Certified Business Analytic Professional (CBAP)-AAPM
720 Dedy Ristanto Certified Business Analytic Professional (CBAP)-AAPM
721 Lely Melia Kaniawati Certified Business Analytic Professional (CBAP)-AAPM
722 Hendy Irawan Certified Business Analytic Professional (CBAP)-AAPM
723 Riska Nurmindha Certified Business Analytic Professional (CBAP)-AAPM
724 Murdianto Certified Business Analytic Professional (CBAP)-AAPM
725 Indra Putera Accredited Supply Chain Analyst (ASCA)-AAPM
726 Ario Fajariawan Accredited Supply Chain Analyst (ASCA)-AAPM
727 Budiarto Soeharjo Accredited Supply Chain Analyst (ASCA)-AAPM
728 Tekun Abdulkarim Accredited Supply Chain Analyst (ASCA)-AAPM
729 Nofrianto Accredited Supply Chain Analyst (ASCA)-AAPM
730 Andika Aditya Accredited Supply Chain Analyst (ASCA)-AAPM
731 Miftakhul Khanif Accredited Supply Chain Analyst (ASCA)-AAPM
732 Surakhmat Accredited Supply Chain Analyst (ASCA)-AAPM
733 Luqman Hilmy M Accredited Supply Chain Analyst (ASCA)-AAPM
734 Koestijono Accredited Supply Chain Analyst (ASCA)-AAPM
735 Ferriza Zainury Accredited Supply Chain Analyst (ASCA)-AAPM
736 Indra Yuda Darnata Accredited Supply Chain Analyst (ASCA)-AAPM
737 Yunivan Kristanto Accredited Supply Chain Analyst (ASCA)-AAPM
738 Tino Prasetyo Accredited Supply Chain Analyst (ASCA)-AAPM
739 Steven Romario T Tarigan Accredited Supply Chain Analyst (ASCA)-AAPM
740 Melly Christian Accredited Supply Chain Analyst (ASCA)-AAPM
741 Mochammad Lutfi Saepudin Master Project Manager (MPM)-AAPM
742 Tanti Nusatti Master Project Manager (MPM)-AAPM
743 Clara Sabrina Master Project Manager (MPM)-AAPM
744 Derwin Master Project Manager (MPM)-AAPM
745 Arissetyanto Nugroho Certified Marketing Analyst (CMA)-AAPM
746 Mochamad Mukti Ali Certified Marketing Analyst (CMA)-AAPM
747 Sri Hartono Certified Marketing Analyst (CMA)-AAPM
748 Ignatius Jeffrey Certified Marketing Analyst (CMA)-AAPM
749 Ignatius Jeffrey Certified in Financial Risk Management (CFRM)-AAFM
750 Suhendi Certified Human Resource Analyst (CHRA)-Analyst
751 Kiki Septella Sari Certified Business Analytic Professional (CBAP)-AAPM
752 Pratomo Edhi Tjahjono Certified Business Analytic Professional (CBAP)-AAPM
753 Nurul Hikmah Certified Business Analytic Professional (CBAP)-AAPM
754 Mochamad Mukti Ali Certified in Financial Risk Management (CFRM)-AAFM
755 Hakiman Certified in Financial Risk Management (CFRM)-AAFM
756 Aty Herawati Certified in Financial Risk Management (CFRM)-AAFM
757 Ignatius Jeffrey Certfied Human Resource Analyst (CHRA)-AAPM
758 Eddy Nugroho Certified in Financial Risk Management (CFRM)-AAFM
759 Deden Komar Priatna Certfied Human Resource Analyst (CHRA)-AAPM
760 Nandang Djunaedi Certfied Human Resource Analyst (CHRA)-AAPM
761 Emed Taryaman Certfied Human Resource Analyst (CHRA)-AAPM
762 Daniel Kisahwan Certfied Human Resource Analyst (CHRA)-AAPM
763 Winna Roswina Certified Portfolio Manager (CPM)-AAFM
764 Heru Budiono Certified Marketing Analyst (CMA)-AAPM
765 Suryaman Certified Portfolio Manager (CPM)-AAFM
766 Adhi Prasetio Certified in Information Technology Service Management (CITSM)- ITIL V 3.0 Intermediate Level-AAPM.
767 Indra Kurniawan Bekti Certified in Information Technology Service Management (CITSM)- ITIL V 3.0 Intermediate Level-AAPM.
768 Arif Wijonarko Certified in Information Technology Service Management (CITSM)- ITIL V 3.0 Intermediate Level-AAPM.
769 Faidil Hadi Certified in Information Technology Service Management (CITSM)- ITIL V 3.0 Intermediate Level-AAPM.
770 Putri Kusumapratiwi Certified in Information Technology Service Management (CITSM)- ITIL V 3.0 Intermediate Level-AAPM.
771 Reni Rianti Certified in Information Technology Service Management (CITSM)- ITIL V 3.0 Intermediate Level-AAPM.
772 Hafiz Fauzan Alanuri Certified in Information Technology Service Management (CITSM)- ITIL V 3.0 Intermediate Level-AAPM.
773 Dedi Juniardi Damsik Certified in Information Technology Service Management (CITSM)- ITIL V 3.0 Intermediate Level-AAPM.
774 RR. Ceria Ganinda Hapsari Certified in Information Technology Service Management (CITSM)- ITIL V 3.0 Intermediate Level-AAPM.
775 Fernandes Parulian Sinaga Certified in Information Technology Service Management (CITSM)- ITIL V 3.0 Intermediate Level-AAPM.
776 Carolus Borromeus Widiyatmoko Certified in Information Technology Service Management (CITSM)- ITIL V 3.0 Intermediate Level-AAPM.
777 Fadjar Ramadhan Certified in Information Technology Service Management (CITSM)- ITIL V 3.0 Intermediate Level-AAPM.
778 Muhammad Fatoni Certified in Information Technology Service Management (CITSM)- ITIL V 3.0 Intermediate Level-AAPM.
779 Krshna Sulanjana Certified in Information Technology Service Management (CITSM)- ITIL V 3.0 Intermediate Level-AAPM.
780 Muhammad Abdul Ja'far Sidiq Certified in Information Technology Service Management (CITSM)- ITIL V 3.0 Intermediate Level-AAPM.
781 Dr. Lenny Christina Nawangsari, MM Certified Human Resource Analyst (CHRA)-AAPM
782 Dr. Mochamad Mukti Ali, MM Certified Human Resource Analyst (CHRA)-AAPM
783 Prof. Dr. Ir. H. Akhmad Fauzi, MMT Certified Human Resource Analyst (CHRA)-AAPM
784 Dr. Drs. Ec. Gendut Sukarno, MS Certified Human Resource Analyst (CHRA)-AAPM
785 Dra. Ec. Kustini, M.Si Certified Human Resource Analyst (CHRA)-AAPM
786 Dr.Safrida, SE, M.Si Certified Human Resource Analyst (CHRA)-AAPM
787 Usman, SE, M.Si Certified Human Resource Analyst (CHRA)-AAPM
788 Enny Trisna, SE,MM Certified Human Resource Analyst (CHRA)-AAPM
789 Supriadi, SE,MM Certified Human Resource Analyst (CHRA)-AAPM
790 Dahlia Indah Chrisanty Certified Human Resource Analyst (CHRA)-AAPM
791 Monica Wanda Alissa Certified Human Resource Analyst (CHRA)-AAPM
792 Elly Warlina Certified Marketing Analyst (CMA)-AAPM
793 Andiono Setiawan Certified Marketing Analyst (CMA)-AAPM
794 Fajar Rahadian Certified Human Resource Analyst (CHRA)-AAPM
795 Hartadi Alamsyah Master Project Manager (MPM)-AAPM
796 Samuel Santosa Manager (MPM)-AAPM
797 Fardian Abidin Certified International Project Manager (CIPM)-AAPM
798 Rosalendro Eddy Nugroho Accredited Supply Chain Analyst (ASCA)-AAPM
799 Moechamad Mukti Ali Accredited Supply Chain Analyst (ASCA)-AAPM
800 Dodik Priyanto Accredited Supply Chain Analyst (ASCA)-AAPM
801 Moechamad Mukti Ali Certified International Project Manager (CIPM)
802 Rosalendro Eddy Nugroho Certified International Project Manager (CIPM)
803 Ahmad Hidayat Sutawijaya Certified International Project Manager (CIPM)
804 Lenny Christina Nawangsari Certified International Project Manager (CIPM)
805 Aty Herawati Certified International Project Manager (CIPM)
806 Ary Sunantiyo Certified Asset Management Professional 807 Andrian Haro Accredited Supply Chain Analyst (ASCA)-AAPM
808 Sonny Hersona Certified Human Resource Analyst (CHRA)-AAPM
809 Rachmat Hasbullah Certified Human Resource Analyst (CHRA)-AAPM
810 Udin Ahidin Certified Marketing Analyst (CMA)-AAPM
811 Budi Rismayadi Certified Human Resource Analyst (CHRA)-AAPM
812 Subagiyo Certified Marketing Analyst (CMA)-AAPM
813 M. Fardian Certified Marketing Analyst (CMA)-AAPM
814 Achmad Mulyana Certified Marketing Analyst (CMA)-AAPM
815 Vandryawan Dwiutama Putra G Certified Marketing Analyst (CMA)-AAPM
816 Andy Herdanarto Certified Facility Management Professional (CFMP)-AAPM
817 Andy Herdanarto Master Management Consultant (MMC)-AAPM
818 Prayonne Adi Certified International Project Manager (CIPM)-AAPM
819 Sediyanto P. Manan Certified International Project Manager (CIPM)-AAPM
820 Achmad Budi Setiawan Certified International Project Manager (CIPM)-AAPM
821 Wayan Saklit Certified International Project Manager (CIPM)-AAPM
822 Ridwan Widyana Certified International Project Manager (CIPM)-
823 Suhendi Certified Marketing Analyst (CMA)-AAPM
824 Winner Yousman Certified Construction Project Consultant (CCPC)-AAPM
825 Bambang Suryanto Master Project Manager (MPM)-AAPM
826 Bambang Suryanto Certified International Information System Auditor (CIISA)-AAFM
827 Agustinus Hariadi DP Certified Marketing Analyst (CMA)-AAPM
828 Sufrin Hannan Certified Marketing Analyst (CMA)-AAPM
829 Sri Hartono Certified Human Resource Analyst (CHRA)-AAPM
830 Khilyatin Dyah Ayu Noor Ikhsani Certified Marketing Analyst (CMA)-AAPM
831 Farida Elmi Certified Human Resource Analyst (CHRA)-AAPM
832 Awaluddin Sanusi Chartered Certified Public Finance Management Accountant (CCFMA)-AAFM
833 Budi Mahmudi Certified Marketing Analyst (CMA)-AAPM
834 Unang Toto Handiman Certified Marketing Analyst (CMA)-AAPM
835 M. Septian Rangga Putra Certified Marketing Analyst (CMA)-AAPM
836 Almi Budiman Certified Marketing Analyst (CMA)-AAPM
837 Rudy Tanjung Herlambang Certified Marketing Analyst (CMA)-AAPM
838 Hendrik Dharma S. Certified Marketing Analyst (CMA)-AAPM
839 Ahmad Badawi Saluy Certified Human Resource Analyst (CHRA)-AAPM
840 Nia Rizqi Fauziah Certified Marketing Analyst (CMA)-AAPM
841 Hening Handayani Master Project Manager (MPM)-AAPM
842 Hening Handayani Management Consultant Professional (MCP)-AAPM 843 Wahyu Hari Haji Master Project Manager (MPM)-AAPM
844 Nur Cholis Dwi Saputro Master Project Manager (MPM)-AAPM
845 Sultan Saade Certified International Project Manager (CIPM)-AAPM
846 Christopfer Surjadi Certified International Project Manager (CIPM)-AAPM
847 Triana Rosma Fikriyati Dina Certified International Project Manager (CIPM)-AAPM
848 Andi Lukman Sukardi Certified Marketing Analyst (CMA)-AAPM
849 Andi Lukman Sukardi Certified Human Resource Analyst (CHRA)-AAPM
850 Agus Budi Prasetya Certified Human Resource Analyst (CHRA)-AAPM
851 Elly Ginandjar Kartasuwignya Certified Human Resource Analyst (CHRA)-AAPM
852 Cipto Subroto Certified Human Resource Analyst (CHRA)-AAPM
853 Andy Herdanarto Certified International OHS Professional-AAPM
854 Andy Herdanarto Master Project Manager-AAPM
855 Shinta Ariestika Certified Accredited Project Manager (CAPM)-AAPM
856 Fadhilla Rahma Friska Certified Accredited Project Manager (CAPM)-AAPM
857 Ariel Gorby Putra Certified Accredited Project Manager (CAPM)-AAPM
858 M Ikromil Amrillah Certified Accredited Project Manager (CAPM)-AAPM
859 Iman Setiadi Certified Accredited Project Manager (CAPM)-AAPM
860 Ninda Frisky Rahmawati Certified Accredited Project Manager (CAPM)-AAPM
861 Khadziqoh Eko Putri Certified Accredited Project Manager (CAPM)-AAPM
862 Irawan Certified Accredited Project Manager (CAPM)-AAPM
863 Melkianus Darius Laning Certified Accredited Project Manager (CAPM)-AAPM
864 Debbie Certified Accredited Project Manager (CAPM)-AAPM
865 Dhanaya Aditiyo Certified Accredited Project Manager (CAPM)-AAPM
866 Adhi Ksatria Theogapa Certified Accredited Project Manager (CAPM)-AAPM
867 Lulu Luthfia Certified Accredited Project Manager (CAPM)-AAPM
868 Diva Terry Anona Certified Accredited Project Manager (CAPM)-AAPM
869 Samsul Arifin Certified Marketing Analyst (CMA)-AAPM
870 Krisdiana Wijaya Certified Marketing Analyst (CMA)-AAPM
871 Indra Suyitno Certified Accredited Project Manager (CAPM)-AAPM
872 Budi Istanto Certified Accredited Project Manager (CAPM)-AAPM
873 Ghulam Tafrihi Certified Accredited Project Manager (CAPM)-AAPM
874 Roland Daniel Parulian Sidabutar Certified Accredited Project Manager (CAPM)-AAPM
875 Muh. Zulkifli Certified Accredited Project Manager (CAPM)-AAPM
876 Muhammad Arief Ma'ruf Nasution Certified Accredited Project Manager (CAPM)-AAPM
877 Rasko Certified Accredited Project Manager (CAPM)-AAPM
878 Firman Selowidagdo Certified Accredited Project Manager (CAPM)-AAPM
879 Angga Risnando Certified Accredited Project Manager (CAPM)-AAPM
880 Fahimah Rahmadian Certified Accredited Project Manager (CAPM)-AAPM
881 Aquila Yoma Eradipa Certified Accredited Project Manager (CAPM)-AAPM
882 Tekun Abdulkarim Certified Human Resource Analyst (CHRA)-AAPM
883 Eka Prianda Certified International Project Manager (CIPM)
884 Bayu Adam Certified Marketing Analyst (CMA)-AAPM
885 Mawardi Janitra Certified Marketing Analyst (CMA)-AAPM
886 Lebiner Sinaga Certified Marketing Analyst (CMA)-AAPM
887 Hermiyanti Holiza Pakpahan Certified Marketing Analyst (CMA)-AAPM
888 Nanang Sukmana Certified Marketing Analyst (CMA)-AAPM
889 Kadita Ayuverda Certified Marketing Analyst (CMA)-AAPM
890 Erry Rizal Rahman Certified Human Resource Analyst (CHRA)-AAPM
891 Paulina Kus Ariningsih Accredited Supply Chain Analyst (ASCA)-AAPM
892 Amie Kusumawardhani Accredited Supply Chain Analyst (ASCA)-AAPM
893 Yun Yun Accredited Supply Chain Analyst (ASCA)-AAPM
894 Asep Kurniawan Accredited Supply Chain Analyst (ASCA)-AAPM
895 Susi Kardina Ria Accredited Supply Chain Analyst (ASCA)-AAPM
896 Febby Kusumawardani Accredited Supply Chain Analyst (ASCA)-AAPM
897 Meylianti Sulungbudi Accredited Supply Chain Analyst (ASCA)-AAPM
898 Iza Monica Albionita Bakri Certified Human Resource Analyst (CHRA)-AAPM
899 Risna Akhriyanti Rachmat Master Data Center Professional (MDCP)-AAPM
900 Ismail Sholeh Master Data Center Professional (MDCP)-AAPM
901 Rezka Endarto Master Data Center Professional (MDCP)-AAPM
902 Teuku Ibnu Sina Master Data Center Professional (MDCP)-AAPM
903 Wenty Febrianti Certified Human Resource Analyst (CHRA)-AAPM
904 Dr. Ignatius Jeffrey, MPM Master Project Manager (MPM)
905 Sonny Rustiadi Certified Business Analytic Professional (CBAP)-AAPM
906 Salfitrie Roos Maryunani Certified Business Analytic Professional (CBAP)-AAPM
907 Isti Raafaldini Mirzanti Certified Business Analytic Professional (CBAP)-AAPM
908 Dina Dellyana Certified Business Analytic Professional (CBAP)-AAPM
909 Yulianto Suharto Certified Business Analytic Professional (CBAP)-AAPM
910 Benny Nugroho Master Project Manager (MPM)-AAPM
911 Niknik Ahmad Munawar Certified Marketing Analyst (CMA)-AAPM
912 Shinta Winasis Certified Human Resource Analyst (CHRA)-AAPM
913 Uli Wildan N Certified Human Resource Analyst (CHRA)-AAPM
914 Hendro Budiyanto Certified Human Resource Analyst (CHRA)-AAPM
915 Asep Saifudin Certified Human Resource Analyst (CHRA)-AAPM
916 Sri Witjaksono Widiabrata Certified Human Resource Analyst (CHRA)-AAPM
917 Christofer Surjadi Certified International Project Manager (CIPM)-AAPM
918 Irwin Dwinanto Certified Business Analytic Professional (CBAP)-AAPM
919 Adinda Fani Rushan Fikrina Hafidzah Certified Business Analytic Professional (CBAP)-AAPM
920 Nurul Amanda Certified Business Analytic Professional (CBAP)-AAPM
921 Regen Sinaga Certified in Financial Risk Management (CFRM)-AAFM
922 Regen Sinaga Master Financial Planner (MFP)-AAFM
923 Siti Maryam Certified Human Resource Analyst (CHRA)-AAPM
924 Ruby Tirzana Certified Human Resource Analyst (CHRA)-AAPM
925 Giri Agung Prastawa Certified Risk Management Officer (CRMO)-AAPM
926 Yadi Abdullah Certified Risk Management Officer (CRMO)-AAPM
927 Ferdi Ganda Kurnia Certified Risk Management Offveredicer (CRMO)-AAPM
928 Riza Fauzi Rahman Harahap Certified Risk Management Officer (CRMO)-AAPM
929 Bekti Suprayitno Certified Risk Management Officer (CRMO)-AAPM
930 Ratna Indah Murdianto Certified Risk Management Officer (CRMO)-AAPM
931 Budi Istanto Certified Risk Management Officer (CRMO)-AAPM
932 Deddy Kurniawan Certified Risk Management Officer (CRMO)-AAPM
933 Dedy Ristanto Certified Risk Management Officer (CRMO)-AAPM
934 Brahmandi Andria Sastra Certified Risk Management Officer (CRMO)-AAPM
935 Lunel Candra Certified Risk Management Officer (CRMO)-AAPM
936 Lely Melia Kaniawati Certified Risk Management Officer (CRMO)-AAPM
937 Mochamad Vrans Romi Certified Human Resource Analyst (CHRA)-AAPM
938 Iendy Zelvien Adhari Master Management Consultant MMC (AAPM)
939 Willy Faizal Certified Asset Management Professional-CAMP (AAPM)
940 Hanafyah Kaisar Certified Asset Management Professional-CAMP (AAPM)
941 Saimin Sugito Accredited Supply Chain Analyst (ASCA)-AAPM
942 Aditya Luqmana Hutama Accredited Supply Chain Analyst (ASCA)-AAPM
943 Kemal Zulfianta Accredited Supply Chain Analyst (ASCA)-AAPM
944 Darfito Accredited Supply Chain Analyst (ASCA)-AAPM
945 Eddy Accredited Supply Chain Analyst (ASCA)-AAPM
946 Tubagus Agus Khoironi Certified Marketing Analyst (CMA)-AAPM
947 H. Hidayat Syah Certified Marketing Analyst (CMA)-AAPM
948 Mudji Sabar Certified Marketing Analyst (CMA)-AAPM
949 Ugeng Budi Haryoko Certified Marketing Analyst (CMA)-AAPM
950 R. Bobby Renaldi Certified Human Resource Analyst (CHRA)-AAPM
951 Aditya Certified Human Resource Analyst (CHRA)-AAPM
952 Darmin Certified Human Resource Analyst (CHRA)-AAPM
953 Sri Suartini Accredited Management Accountant-AAFM
954 Edi Suswardji Certified Portfolio Manager (CPM)-AAFM
955 Ayi Wahid Certified Portfolio Manager (CPM)-AAFM
956 M. Shoffa Saifillah AF Certified Human Resource Analyst (CHRA)-AAPM
957 Mashudi Accredited Supply Chain Analyst (ASCA)-AAPM
958 Fellin Fidi Kinanti Certified Business Analytic Professional (CBAP)-AAPM
959 Bambang Totok M Certified Business Analytic Professional (CBAP)-AAPM
960 Ahmad Wildan Syarwani Certified Data Center Profesional (MDCP)-AAPM
961 Ade Dwi Anggoro Certified Data Center Profesional (MDCP)-AAPM
962 Indra Prasetio Certified Data Center Profesional (MDCP)-AAPM
963 Dery Partoni Certified Data Center Profesional (MDCP)-AAPM
964 Arief sukmawan Certified Data Center Profesional (MDCP)-AAPM 964 Avien Aryanti Certified Human Resource Analyst (CHRA)-AAPM
965 Pahoot Master Project Manager (MPM)-AAPM
966 Zhang Renxu Larry Certified International Project Manager (CIPM)-AAPM
967 C. Jarot Priyo Gutomo Certified Digital Marketing Professional (CDMP)-AAPM
968 Nadia Nila Sari Certified Digital Marketing Professional (CDMP)-AAPM
969 Elisabet Dita Septiari Certified Digital Marketing Professional (CDMP)-AAPM
970 Sugeng Riyadi Certified Digital Marketing Professional (CDMP)-AAPM
971 Rey Ramsha Pandita Certified Digital Marketing Professional (CDMP)-AAPM
972 Fajar Adriansyah Certified Digital Marketing Professional (CDMP)-AAPM
973 Andini Nurul Fadilah Certified Digital Marketing Professional (CDMP)-AAPM
974 Dhyah Ayu Retno Certified Digital Marketing Professional (CDMP)-AAPM
975 Tedi Herianto Hamiprodjo Certified Digital Marketing Professional (CDMP)-AAPM
976 Guntur Sulaeman Certified Digital Marketing Professional (CDMP)-AAPM
977 Lala Irviana Certified Human Resource Analyst (CHRA)-AAPM
978 Nurul Wuryaningsih Certified Human Resource Analyst (CHRA)-AAPM
979 Suhartini Certified Human Resource Analyst (CHRA)-AAPM
980 Trias Setiawati Certified Human Resource Analyst (CHRA)-AAPM
981 Fereshti Nurdiana Dihan Certified Human Resource Analyst (CHRA)-AAPM
982 Novawiguna Kemalasari Certified Risk Analyst (CRA)-AAFM
983 Bambang Mulyana Registered Financial Specialist (RFS)-AAFM
984 Temi Delizar Hudoyo Certified Associate Project Manager (CAPM)-AAPM
985 Karim Hasan Certified Associate Project Manager (CAPM)-AAPM
986 Harry Ramdan Certified Associate Project Manager (CAPM)-AAPM
987 I Made Raditya Dwipayana Certified Associate Project Manager (CAPM)-AAPM
988 Hermansyah Certified Associate Project Manager (CAPM)-AAPM
989 Steafen Kristian Soegiono Certified International Project Manager (CIPM)-AAPM
990 R.Totok Mukarto Ongkowidjojo Certified in Corporate Business Law (CCBL)-AAFM
991 Sunaryo Certified Marketing Analyst (CMA)-AAPM
992 Agung Yuniarinto Certified Marketing Analyst (CMA)-AAPM
993 Mugiono Certified Marketing Analyst (CMA)-AAPM
994 Astrid Puspaningrum Certified Marketing Analyst (CMA)-AAPM
995 Ananto Basuki Certified Marketing Analyst (CMA)-AAPM
996 Fatchur Rohman Certified Marketing Analyst (CMA)-AAPM
997 Ananda Sabil Hussein Certified Marketing Analyst (CMA)-AAPM
998 Dimas Hendrawan Certified Marketing Analyst (CMA)-AAPM
999 Risca Fitri Ayuni Certified Marketing Analyst (CMA)-AAPM
1000 Nadiyah Hirfiyana Rosita Certified Marketing Analyst (CMA)-AAPM
1001 Dian Ari Nugroho Certified Marketing Analyst (CMA)-AAPM
1002 Sigit Pramono Certified Marketing Analyst (CMA)-AAPM
1003 Bayu Ilham Pradana Certified Marketing Analyst (CMA)-AAPM
1004 Alim Suciana Accredited Supply Chain Analyst (ASCA)-AAPM
1005 Wahyu Alfarobbi Accredited Supply Chain Analyst (ASCA)-AAPM
1006 Mochammad Mukti Ali Chartered Wealth Manager (CWM)-AAFM
1007 Widodo Dumadi Accredited Supply Chain Analyst (ASCA)-AAPM
1008 Ria Rahmawati Certified Marketing Analyst (CMA)-AAPM
1009 Rizal Diansyah Certified Marketing Analyst (CMA)-AAPM
1010 Ashari Arinto Certified International Information System Auditor (CIISA)-AAFM
1011 Katlea Fitriani Certified International Project Manager
1012 Mahlia Muis Certified International Project Manager (CIPM)-AAPM
1013 Yani Herawati Certified International Project Manager (CIPM)-AAPM
1014 A.Rahman. H I Certified International Communication Specialist (CICS)-AAPM
1015 Ponco Budi Sulistyo Certified International Communication Specialist (CICS)-AAPM
1016 Ahmad Mulyana Certified International Communication Specialist (CICS)-AAPM
1017 Henni Gusfa Certified International Communication Specialist (CICS)-AAPM
1018 Mochammad Mukti Ali Certified International Communication Specialist (CICS)-AAPM
1019 Irmulansati Tomohardjo Certified International Communication Specialist (CICS)-AAPM
1020 Doni Purnomo Master Project Manager (MPM)-AAPM
1021 Imam Indra Gunawan Master Project Manager (MPM)-AAPM
1022 Nugroho Kristianto Master Project Manager (MPM)-AAPM
1023 Muchlisin Master Project Manager (MPM)-AAPM
1024 Siti Munjarofah Master Project Manager (MPM)-AAPM
1025 Lufty Abdillah Master Project Manager (MPM)-AAPM
1026 Ruchimat Master Project Manager (MPM)-AAPM
1027 R. Wisnu Prio Pamungkas Certified International Information System Auditor (CIISA)-AAFM
1028 Inge Hutagalung Certified International Communication Specialist (CICS)-AAPM
1029 Syaifuddin Certified International Communication Specialist (CICS)-AAPM
1030 Rosmawaty Hilderiah Pandjaitan Certified International Communication Specialist (CICS)-AAPM
1031 Leila Mona Certified International Communication Specialist (CICS)-AAPM
1032 Pigar Certified Marketing Analyst (CMA)-AAPM
1033 Maulidina Ramadhani Certified Marketing Analyst (CMA)-AAPM
1034 Zarwin Certified Marketing Analyst (CMA)-AAPM
1035 Ela Ratna Yuwita Certified Marketing Analyst (CMA)-AAPM
1036 Fitria Ichsani Certified Marketing Analyst (CMA)-AAPM
1037 Dyah Ruth Wulandari Certified Marketing Analyst (CMA)-AAPM
1038 Alim Suciana Certified Marketing Analyst (CMA)-AAPM
1039 Arya Pratama Certified Marketing Analyst (CMA)-AAPM
1040 Muhamad Afif Fauzan Certified Marketing Analyst (CMA)-AAPM
1041 Bondan Adriya Certified Marketing Analyst (CMA)-AAPM
1042 Meylianti Sulung Budi Certified International Project Manager (CIPM)-AAPM
1043 Insan Ahmad Soleh Certified International Project Manager (CIPM)-AAPM
1044 I Wayan Budi Artha Certified in Financial Risk Management (CFRM)-AAFM
1045 Andri Pipit Utoyo Accredited Supply Chain Analyst (ASCA)-AAPM
1046 Moch Amin Nurdin Certified Human Resource Analyst (CHRA)-AAPM
1047 Prof. Dr. Hapzi Ali Master Project Manager (MPM)-AAPM
1048 M. Rizky Mahaputra Certified Marketing Analyst (CMA)-AAPM
1049 Amalina Maharani Accredited Management Accountant (AMA)-AAFM
1050 M.Havidz Aima Certified in Financial Risk Management (CFRM)-AAFM
1051 Muhammad Rajab Certified Human Resource Analyst (CHRA)-AAPM
1052 Abdullah Zuhud Certified Business Analytic Professional (CBAP)-AAPM
1053 Roy Gamma Certified Business Analytic Professional (CBAP)-AAPM
1054 Prof. Dr. Hj. Ai Komariah, Ir., MS Certified Human Resource Analyst (CHRA)-AAPM
1055 Dr. H. Dodi Sukmayana, SE., MM Accredited Financial Analyst (AFA)-AAFM
1056 Andreas Ferry Hariyadi Certified Marketing Analyst (CMA)-AAPM
1057 Dr. Zaini Abdillah Certified Human Resource Analyst (CHRA)-AAPM
1058 Vera Dwi Astuti, S.ST.RMIK Certified Human Resource Analyst (CHRA)-AAPM
1059 Budhi Ganda Permana Accredited Financial Analyst (AFA)-AAFM
1060 Henra Hasibuan, SH Certified Human Resource Analyst (CHRA)-AAPM
1061 Aries Riyanto, S.Sos Certified Human Resource Analyst (CHRA)-AAPM
1062 Asep Pujiyono Certified Human Resource Analyst (CHRA)-AAPM
1063 Erlinawati Pasaribu Certified Human Resource Analyst (CHRA)-AAPM
1064 Bubun Badruzaman Certified Human Resource Analyst (CHRA)-AAPM
1065 Asep Sutanto, ST., MM Certified Human Resource Analyst (CHRA)-AAPM
1066 Dicky Safari Zen Certified Marketing Analyst (CMA)-AAPM
1067 Ellys Geugeu Abana, SE., MM Certified Human Resource Analyst (CHRA)-AAPM
1068 Iwan Somantri Certified Marketing Analyst (CMA)-AAPM
1069 Budhi Ganda Permana Master Quality Manager (MQM)-AAPM
1070 Zaini Abdillah Master Quality Manager (MQM)-AAPM
1071 Irman Nurrahman Firdaus Master Quality Manager (MQM)-AAPM
1072 Dwi Budi Utami Certified International Information System Auditor (CIISA)-AAFM
1073 Irwan Ahmad Sugiharto Certified International Information System Auditor (CIISA)-AAFM
1074 Nico Rudolf Certified Business Analytic Professional (CBAP)-AAPM 1175 Yulia Arisnani Widyaningsih Certified Digital Marketing Professional (CDMP)-AAPM
1176 Bayu Aji Aritejo Certified Digital Marketing Professional (CDMP)-AAPM
1177 Ricky Yohannes Certified Digital Marketing Professional (CDMP)-AAPM
1178 Lia Nabila Tristi Certified Digital Marketing Professional (CDMP)-AAPM
1179 Haryajid Ramelan Certified Digital Marketing Professional (CDMP)-AAPM
1180 Aria Samata Santoso Certified Digital Marketing Professional (CDMP)-AAPM
1181 Enriqo Moreno Certified Digital Marketing Professional (CDMP)-AAPM
1182 Ary Bastari Certified Marketing Analyst (CMA)-AAPM
1183 Rudi Syahrinsyah Certified Marketing Analyst (CMA)-AAPM
1184 IGK. Prasetya Certified Marketing Analyst (CMA)-AAPM
1185 M. Rahman Hakim Certified Marketing Analyst (CMA)-AAPM
1186 Fachrudin Certified Marketing Analyst (CMA)-AAPM
1187 Ahmad Fatrya Putra Certified Marketing Analyst (CMA)-AAPM
1188 Nordin Certified Marketing Analyst (CMA)-AAPM
1189 Suriadi Certified Marketing Analyst (CMA)-AAPM
1190 Izhar Certified Marketing Analyst (CMA)-AAPM
1191 Deddy Setiawan Certified Marketing Analyst (CMA)-AAPM
1192 Syahrituah Siregar Certified in Financial Risk Management (CFRM)-AAFM
1193 Hatmansyah Certified in Financial Risk Management (CFRM)-AAFM
1194 Zulfadli Gazali Certified in Financial Risk Management (CFRM)-AAFM
1195 Gusti Agus Permana Certified in Financial Risk Management (CFRM)-AAFM
1196 Rudi Ansyari Certified in Financial Risk Management (CFRM)-AAFM
1197 Iwan Certified in Financial Risk Management (CFRM)-AAFM
1198 Irwan Meidani Aham Certified in Financial Risk Management (CFRM)-AAFM
1199 Yuli Harmini Certified in Financial Risk Management (CFRM)-AAFM
1200 Noor Fitriah Certified in Financial Risk Management (CFRM)-AAFM
1201 M. Fajri Muhtadi Certified in Financial Risk Management (CFRM)-AAFM
1202 M. Ihya U. Basri Certified in Financial Risk Management (CFRM)-AAFM
1203 Ary Bastari Master Project Manager (MPM)-AAPM
1204 Evy Susanti Master Project Manager (MPM)-AAPM
1205 Evy Susanti Chartered Wealth Manager (CWM)-AAFM
1206 Asep Zulfikar Master Project Manager (MPM)-AAPM
1207 Nandang Sutisna Master Project Manager (MPM)-AAPM
1208 Jaya Addin Linando Certified Human Resource Analyst (CHRA)-AAPM
1209 Handrio Adhi Pradana Certified Human Resource Analyst (CHRA)-AAPM
1210 Dodik Priyanto Certified Human Resource Analyst (CHRA)-AAPM
1211 Intan Budhi Utoyo Certified Asset Management Professional (CAMP)-AAPM
1212 Basrizal Certified Human Resource Analyst (CHRA)-AAPM
1213 Serafinus Octavia Puspitasari Certified Human Resource Analyst (CHRA)-AAPM
1214 Handy Suryadi Certified Human Resource Analyst (CHRA)-AAPM
1215 Lodian Sani S Certified International Mathematics Expert (CIME)-AAPM
1216 Supeni Certified Human Resource Analyst (CHRA)-AAPM
1217 Mochammad Mukti Ali Certified Product Management Professional (CPMP)-AAPM
1218 Mochammad Mukti Ali Certified Strategic Business Analyst (CSBA)-AAFM
1219 Ridwan Abadi Certified International Project Manager (CIPM)-AAPM
1220 Erwin Yudha Pratama Master Project Manager (MPM)-AAPM
1221 Hasta Ragil Saputra Master Project Manager (MPM)-AAPM
1222 Ahmad Zuhdi Master Project Manager (MPM)-AAPM
1223 Tsabit Ghazwan Master of Quality Manager (MQM)-AAPM
1224 Wahyu Purbo Santoso Certified in Financial Risk Management (CFRM)-AAFM
1225 Hermiyanti Holiza Pakpahan Certified International Project Manager (CIPM)-AAPM
1226 Wahyu Alfarobbi Certified International Project Manager (CIPM)-AAPM
1227 Henni Gusfa Certified International Project Manager (CIPM)-AAPM
1228 Febianto Halimin Putra Certified International Project Manager (CIPM)-AAPM
1229 Hendi Saptadi Certified International Project Manager (CIPM)-AAPM
1230 Arli Sokhiaro Gulo Certified International Project Manager (CIPM)-AAPM
1231 Angga Sumantri Certified International Project Manager (CIPM)-AAPM
1232 Unang Toto Handiman Certified International Project Manager (CIPM)-AAPM
1233 Rizal Sugih Firmansyah Certified International Project Manager (CIPM)-AAPM
1234 Alim Suciana Certified International Project Manager (CIPM)-AAPM
1235 Darfito Certified International Project Manager (CIPM)-AAPM
1236 Yenni Tan Certified Marketing Analyst (CMA)
1237 Sugiyanto Certified Marketing Analyst (CMA)
1238 Arif Siaha Widodo Certified Marketing Analyst (CMA)-AAPM
1239 Budhi Prabowo Certified Human Resource Analyst (CHRA)-AAPM
1240 Ibram Pinondang Dalimunthe Certified in Financial Risk Management (CFRM)-AAFM
1241 Veritia Certified Human Resource Analyst (CHRA)-AAPM
1242 Lucia Maduningtias Certified Human Resource Analyst (CHRA)-AAPM
1243 Mochammad Mukti Ali Certified Digital Marketing Professional (CDMP)-AAPM
1244 Rahmi Hermawati Certified Human Resource Analyst (CHRA)-AAPM
1245 Aditya Permana Putra Registered Financial Specialist (RFS)-AAFM
1246 Agung Fuad Pahlevi Registered Financial Specialist (RFS)-AAFM
1247 Aip Wiyana Registered Financial Specialist (RFS)-AAFM
1248 Aisyah Fera Kurnia Registered Financial Specialist (RFS)-AAFM
1249 Andro Pradona Sukoco Registered Financial Specialist (RFS)-AAFM
1250 Angga Wiratama Registered Financial Specialist (RFS)-AAFM
1251 Anita Fauzi Registered Financial Specialist (RFS)-AAFM
1252 Anita Prasetya Kusuma Registered Financial Specialist (RFS)-AAFM
1253 Arina Pramudita Trisuwito Registered Financial Specialist (RFS)-AAFM
1254 Ariz Fazli Putra Registered Financial Specialist (RFS)-AAFM
1255 Pawenary Master Project Manager (MPM)-AAPM
1256 Barita Johanes Sihotang Registered Financial Specialist (RFS)-AAFM
1257 Bayu Yudhasmara Registered Financial Specialist (RFS)-AAFM
1258 Brory Wahyudi Registered Financial Specialist (RFS)-AAFM
1259 Fakhrur Rijal Nasution Registered Financial Specialist (RFS)-AAFM
1260 Fransiska Endang Kinasih Registered Financial Specialist (RFS)-AAFM
1261 Fruverina Agnes Tia Juliana Registered Financial Specialist (RFS)-AAFM
1262 Hariyana Registered Financial Specialist (RFS)-AAFM
1263 I Dewa Ayu Made Istri Wulandari Registered Financial Specialist (RFS)-AAFM
1264 Intan Permata Sari Registered Financial Specialist (RFS)-AAFM
1265 Januar Rizqi Registered Financial Specialist (RFS)-AAFM
1266 Listya Esa Sasmita Registered Financial Specialist (RFS)-AAFM
1267 Muhamad Taufik Registered Financial Specialist (RFS)-AAFM
1268 Primanita Registered Financial Specialist (RFS)-AAFM
1269 Rihayaty Registered Financial Specialist (RFS)-AAFM
1270 Rima Handayani Certified Human Resource Analyst (CHRA)-AAPM
1271 Dian Taurisa Widiaty Certified Human Resource Analyst (CHRA)-AAPM
1272 Ersa Inayah Certified Human Resource Analyst (CHRA)-AAPM
1273 Eva Musyrifah Certified Human Resource Analyst (CHRA)-AAPM
1274 Gabelas Makmur Simamora Certified Marketing Analyst (CMA)-AAPM
1275 Risky Rahmawati Pinardi Certified Marketing Analyst (CMA)-AAPM
1276 Muhammad Afham Azri Master Project Manager (MPM)-AAPM
1277 M. Ayodya Satrya Master Project Manager (MPM)-AAPM
1278 Suseno Wahyu Purnomo Master Project Manager (MPM)-AAPM
1279 Agustinus Yulianto Master Project Manager (MPM)-AAPM
1280 Rudi Albert Master Project Manager (MPM)-AAPM
1281 Mochamad Iqbal Hermawan Master Project Manager (MPM)-AAPM
1282 Supriyanto Master Project Manager (MPM)-AAPM
1283 Muhammad Irhas Master Project Manager (MPM)-AAPM
1284 Rahmat Santoso Master Project Manager (MPM)-AAPM
1285 Bambang Suprayitno Master Project Manager (MPM)-AAPM
1286 Susatya Tri Setiawan Certified Risk Management Officer (CRMO)-AAPM
1287 Ediyanus Pabendon Certified Risk Management Officer (CRMO)-AAPM
1288 M.Jaka Hadi Santosa Certified Risk Management Officer (CRMO)-AAPM
1289 Naka Prihastya Putra Certified Risk Management Officer (CRMO)-AAPM
1290 Faizal Aidul Fitri Certified Risk Management Officer (CRMO)-AAPM
1291 Rahadian Farizi Certified Risk Management Officer (CRMO)-AAPM
1292 Khrisna Dini Yunita Sari Certified Risk Management Officer (CRMO)-AAPM
1293 Muhamad Zaki Mubarok Rahman Certified Risk Management Officer (CRMO)-AAPM
1294 Utami Nazmi Puspahati Certified Risk Management Officer (CRMO)-AAPM
1295 Syaiful Bachri Certified Risk Management Officer (CRMO)-AAPM
1296 Rifqi Abdul Aziz Certified Risk Management Officer (CRMO)-AAPM
1297 Ida Farida Certified Risk Management Officer (CRMO)-AAPM
1298 Marietje Manduapessy Certified Risk Management Officer (CRMO)-AAPM
1299 Githa Kharismawati Certified Risk Management Officer (CRMO)-AAPM
1300 Ahmad Sidik Certified Risk Management Officer (CRMO)-AAPM
1301 Rian Handono Certified Risk Management Officer (CRMO)-AAPM
1302 Abdul Ghony Certified Risk Management Officer (CRMO)-AAPM
1303 Aquila Yoma Eradipa Certified Risk Management Officer (CRMO)-AAPM
1304 Nur Idris Fahmi Certified Risk Management Officer (CRMO)-AAPM
1305 Reni Rianti Certified Risk Management Officer (CRMO)-AAPM
1306 Intan Budhi Utoyo Certified Asset Management Professional (CAMP)-AAPM
1307 Mochammad Mukti Ali Master Project Manager (MPM)-AAPM
1308 Rini Alfatiyah Certified Marketing Analyst (CMA)
1309 Ferdiansyah Certified Marketing Analyst (CMA)
1310 Ali Mubarok Certified Marketing Analyst (CMA)
1311 Laily Maknin Zubaedah Certified Marketing Analyst (CMA)
1312 Sunanto Certified Marketing Analyst (CMA)
1313 Sutiman Master Financial Planner (MFP)-AAFM
1314 M. Elfan Kaukab Master Financial Planner (MFP)-AAFM
1315 Agus Putranto Master Financial Planner (MFP)-AAFM
1316 Romandhon Master Financial Planner (MFP)-AAFM
1317 Bambang Nurcahyo Ariadhi Certified International Project Manager (CIPM)-AAPM
1318 Aditya Luqmana Hutama Certified International Project Manager (CIPM)-AAPM
1319 Mashudi Certified International Project Manager (CIPM)-AAPM
1320 Hasan Certified International Project Manager (CIPM)-AAPM
1321 Saimin Sugito Certified International Project Manager (CIPM)-AAPM
1322 M. Elfan Kaukab Certified Marketing Analyst (CMA)
1323 Heri Purwanto Certified Marketing Analyst (CMA)
1324 M. Trihudiyatmanto Certified Marketing Analyst (CMA)
1325 Bahtiar Efendi Certified Marketing Analyst (CMA)
1326 Ferdina Watiningsih Certified in Financial Risk Management (CFRM)-AAFM
1327 Farid Wajdi Certified in Financial Risk Management (CFRM)-AAFM
1328 Edi Iskandar Certified Data Center Audit Professional (CDCAP)-AAPM
1329 Syamsul Hidayat Certified Data Center Audit Professional (CDCAP)-AAPM
1330 Farid Wajdi Certified in Financial Accounting (CFA)--AAFM
1331 Ignatius Jeffrey Certified in Financial Accounting (CFA)--AAFM
1332 Trie Rundi Hartono Certified in Financial Accounting (CFA)--AAFM
1333 Ramses Pakpahan Certified in Financial Accounting (CFA)--AAFM
1334 Trie Rundi Hartono Certified in Financial Risk Management (CFRM)-AAFM
1335 Ramses Pakpahan Certified in Financial Risk Management (CFRM)-AAFM
1336 Mochammad Mukti Ali Certified Data Center Audit Professional (CDCAP)-AAPM
1337 Dyah Sugandini Certified Digital Marketing Professional (CDMP)-AAPM
1338 Surpiko Hapsoro Darpito Certified Digital Marketing Professional (CDMP)-AAPM
1339 Wisnalmawati Certified Digital Marketing Professional (CDMP)-AAPM
1340 Danang Yudhiantoro Certified Digital Marketing Professional (CDMP)-AAPM
1341 Ign. Agus Suryono Certified Digital Marketing Professional (CDMP)-AAPM
1342 Novriandini Ermaningrum Certified Digital Marketing Professional (CDMP)-AAPM
1343 Herminawaty Abubakar Certified Strategic Business Analyst (CSBA)-AAFM
1344 Mochammad Bagus Suaeb Certified Strategic Business Analyst (CSBA)-AAFM
1345 Ery Sugito Accredited Supply Chain Analyst (ASCA)-AAPM
1346 Ferrys Berlian Wardoso Diantoro Accredited Supply Chain Analyst (ASCA)-AAPM
1347 Ginanjar Wiro Sasmito Accredited Supply Chain Analyst (ASCA)-AAPM
1348 Rizki Prakasa Hasibuan Accredited Supply Chain Analyst (ASCA)-AAPM
1349 Ardi. S Certified in Financial Accounting (CFA)--AAFM
1350 Agus Bandiyono Certified in Financial Accounting (CFA)--AAFM
1351 Triana Meinarsih Certified in Financial Accounting (CFA)--AAFM
1352 Iin Rosini Certified in Financial Accounting (CFA)--AAFM
1353 Diah Nurdiana Certified in Financial Accounting (CFA)--AAFM
1354 Ardi. S Certified in Financial Risk Management (CFRM)-AAFM
1355 Agus Bandiyono Certified in Financial Risk Management (CFRM)-AAFM
1356 Iin Rosini Certified in Financial Risk Management (CFRM)-AAFM
1357 Diah Nurdiana Certified in Financial Risk Management (CFRM)-AAFM
1358 Triana Meinarsih Certified in Financial Risk Management (CFRM)-AAFM
1359 Sugiyanto Certified in Financial Risk Management (CFRM)-AAFM
1360 M. Elfan Kaukab Certified Human Resource Analyst (CHRA)-AAPM
1361 Ramses Pakpahan Certified Human Resource Analyst (CHRA)-AAPM
1362 Ramses Pakpahan Certified Marketing Analyst (CMA)-AAPM
1363 Ramses Pakpahan Certified Risk Analyst-AAFM
1364 Melinda Malau Certified in Financial Risk Management (CFRM)-AAFM
1365 Arif Siaha Widodo Certified Human Resource Analyst (CHRA)-AAPM 1366 Ignatius Jeffrey Certified in Financial Accounting (CFA)--AAFM
1367 Trie Rundi Hartono Certified in Financial Accounting (CFA)--AAFM
1369 Ramses Pakpahan Certified in Financial Accounting (CFA)--AAFM
1370 Ardi. S Certified in Financial Accounting (CFA)--AAFM
1371 Agus Bandiyono Certified in Financial Accounting (CFA)--AAFM
1372 Triana Meinarsih Certified in Financial Accounting (CFA)--AAFM
1373 Iin Rosini Certified in Financial Accounting (CFA)--AAFM
1374 Diah Nurdiana Certified in Financial Accounting (CFA)--AAFM
1375 Melinda Malau Certified in Financial Accounting (CFA)--AAFM
1366 Certified Digital Marketing Professional (CDMP)-AAPM
1376 Dyah Sugandini
1377 Surpiko Hapsoro Darpito
1378 Wisnalmawati
1366 Certified Digital Marketing Professional (CDMP)-AAPM
1379 Danang Yudhiantoro
1380 Ign. Agus Suryono Certified Digital Marketing Professional (CDMP)-AAPM
1381 Novriandini Ermaningrum
1382 Herminawaty Abubakar Certified Strategic Business Analyst (CSBA)-AAFM
1383 Mochammad Bagus Suaeb Certified Strategic Business Analyst (CSBA)-AAFM
1384 Ery Sugito Accredited Supply Chain Analyst (ASCA)-AAPM
1386 Ferrys Berlian Wardoso Diantoro Accredited Supply Chain Analyst (ASCA)-AAPM
1387 Ginanjar Wiro Sasmito Accredited Supply Chain Analyst (ASCA)-AAPM
1388 Rizki Prakasa Hasibuan Accredited Supply Chain Analyst (ASCA)-AAPM
1389 Mochammad Mukti Ali Certified Data Center Audit Professional (CDCAP)-AAPM
1390 Mochammad Mukti Ali Certified in Financial Accounting (CFA)--AAFM
1391 Ary Sunantiyo Certified International Project Manager (CIPM)
1392 Erni Giartatik Certified Human Resource Analyst (CHRA)-AAPM
1393 Leonard Andy Riyanto Certified Human Resource Analyst (CHRA)-AAPM
1394 Dian Rahayu Aprilianingsih Certified Human Resource Analyst (CHRA)-AAPM
1395 Mahendwi Dinarani Certified Human Resource Analyst (CHRA)-AAPM
1396 Giri Ayu Wardhani Certified Human Resource Analyst (CHRA)-AAPM
1397 Kinkin Yuliaty Subarsa Putri Certified International Communication Specialist (CICS)-AAPM
1398 Betty Tresnawaty Certified International Communication Specialist (CICS)-AAPM
1399 Irma Kusumawati Certified International Communication Specialist (CICS)-AAPM
1400 Mikke Setiawati Certified International Communication Specialist (CICS)-AAPM
1401 Maria Martina Widyastuti Certified International Communication Specialist (CICS)-AAPM
1402 Willy Dreeskandar Certified International Communication Specialist (CICS)-AAPM
1403 Ratri Mustika Dewi Certified International Communication Specialist (CICS)-AAPM
1404 Ria Rahmawati Certified Marketing Analyst (CMA)-AAPM
1405 Ria Rahmawati Certified Strategic Business Analyst (CSBA)-AAFM
1406 Suriantama Nasution Certified Management Consultant Professional (CMCP)
1407 Selamat W.Hia Accredited Supply Chain Analyst (ASCA)-AAPM
1408 Erlina Puspitaloka Mahadewi Certified Marketing Analyst (CMA)-AAPM
1409 Desy Dharmawati Certified Marketing Analyst (CMA)-AAPM
1410 Ratih Dewi Sumantri Certified Digital Marketing Professional (CDMP)
1411 Defky Permata Sastri Certified Digital Marketing Professional (CDMP)
1412 Mawardi Janitra Certified Digital Marketing Professional (CDMP)
1413 Dyah Ruth Wulandari Certified Digital Marketing Professional (CDMP)
1414 Arfin Jaya Saputra Certified Digital Marketing Professional (CDMP)
1415 Vera Agustina Rotua Sinurat Certified Digital Marketing Professional (CDMP)
1416 Maulidina Ramadhani Certified Digital Marketing Professional (CDMP)
1417 Dhanang Suryo Kusumo Certified Digital Marketing Professional (CDMP)
1418 Gerry Eleazar Certified Digital Marketing Professional (CDMP)
1419 Fitria Ichsani Certified Digital Marketing Professional (CDMP)
1420 Ela Ratna Yuwita Certified Digital Marketing Professional (CDMP)
1421 Zarwin Certified Digital Marketing Professional (CDMP)
1422 Muhammad Millah Irsyadin Certified International Media Specialist
1423 Mitra Kartika Certified Human Resource Analyst (CHRA)-AAPM
1424 Laura Valentine Certified Human Resource Analyst (CHRA)-AAPM
1425 Iqbal Nazili Certified Human Resource Analyst (CHRA)-AAPM
1426 Patricia Darma Bulan Certified Human Resource Analyst (CHRA)-AAPMD
1427 Ryaneka Darmawan Certified Human Resource Analyst (CHRA)-AAPM
1428 Muchamad Aang Sopian Certified Human Resource Analyst (CHRA)-AAPM
1429 Wasis Winardi Master Financial Planner (MFP)-AAFM
1430 Agung Budiman Master Financial Planner (MFP)-AAFM
1431
1432 Harry Susatyo Certified Business Analytic Professional-(CBAP)
1433 Raden Branata Asikin Certified Marketing Analyst (CMA)-AAPM
1434 Rizal Diansyah Certified Marketing Analyst (CMA)-AAPM
1435 Andrian Haro Certified Marketing Analyst (CMA)-AAPM 1436 Erna Ningsih Certified Risk Analyst (CRA)-AAFM
1437 Ferdhy Firdausy Certified Risk Analyst (CRA)-AAFM
1438 Amir Hasan Certified Risk Analyst (CRA)-AAFM
1439 Andri Moch Ardianto Certified Risk Analyst (CRA)-AAFM
1440 Sareviandi Eka Hasta Certified Risk Analyst (CRA)-AAFM
1441 Puspa Indah Ramadhani Certified Risk Analyst (CRA)-AAFM
1442 Maskuri Certified Risk Analyst (CRA)-AAFM
1443 Marten Avero Certified Risk Analyst (CRA)-AAFM
1444 Maisyal Fazar Alamsyah, Certified International Project Manager (CIPM)-AAPM
1445 Panji Dewa Jayeng Raga, Certified International Project Manager (CIPM)-AAPM
1446 Koko Prayitno,Certified International Project Manager (CIPM)-AAPM
1447 Dulani,Certified International Project Manager (CIPM)-AAPM
1448 Galih Aprianto,Certified International Project Manager (CIPM)-AAPM
1449 Margono, Certified International Project Manager (CIPM)-AAPM
1450 Djoko Purwanto, Certified International Project Manager (CIPM)-AAPM
1451 Ufo Mahendra Putranto, Certified International Project Manager (CIPM)-AAPM
1452 Wahyu Binuko, Certified International Project Manager (CIPM)-AAPM
1453 Prihatini Ratna Dewi, Certified International Project Manager (CIPM)-AAPM
1454 Heri Susanto, Certified International Project Manager (CIPM)-AAPM
1455 Mochammad Suwito, Certified International Project Manager (CIPM)-AAPM
1456 Dicky Andrean, Certified International Project Manager (CIPM)-AAPM1457 Dixco Suwarno Certified Human Resource Analyst (CHRA)-AAPM
1458 Sofie Agustini Certified Human Resource Analyst (CHRA)-AAPM
1459 Kapler A. Marpaung Registered Financial Analyst (RFS)-AAFM
1460 Bahari Parinduri Master Quality Manager (MQM)-AAPM
1461 Cahya Perdana Nurmawan Certified International Information System Auditor (CIISA)-AAFM
1462 Cahya Perdana Nurmawan Certified in Financial Risk Management (CFRM)-AAFM
1463 Raden Branata Asikin Certified Strategic Business Analyst (CSBA)-AAFM
1464 Rizal Diansyah Certified Strategic Business Analyst (CSBA)-AAFM
1465 Ira Abilia Agustina Salim Certified Strategic Business Analyst (CSBA)-AAFM
1466 Sandy Martsanto Master Project Manager (MPM)-AAPM
1467 Chandra Basuki Master Project Manager (MPM)-AAPM
1468 Yohan Effenddy Sunyoto Master Project Manager (MPM)-AAPM
1469 Gusak Tilas Wangi Master Project Manager (MPM)-AAPM
1470 Rangga Aji Juang Sukmadiningrat Master Project Manager (MPM)-AAPM
1471 Farid Ma'ruf Certified Digital Marketing Professional (CDMP)-AAPM
1472 Syifa Fitriani Certified Digital Marketing Professional (CDMP)-AAPM
1473 Zukhruf Nur Wakhid Certified Digital Marketing Professional (CDMP)-AAPM
1474 Haikal Akbari Setiawan Certified Human Resource Analyst (CHRA)-AAPM
1475 Hery Certified in International Financial Reporting Standards (CIFRS)-GAFM
1476 Banu Mahatdir Certified Accredited Project Manager (CAPM)-AAPM
1477 Adi Nurdiansyah Certified Accredited Project Manager (CAPM)-AAPM
1478 Dwi Waluyo Certified Accredited Project Manager (CAPM)-AAPM
1479 Yudha Adi Putra Certified Accredited Project Manager (CAPM)-AAPM
1480 Yandika Putra Certified Accredited Project Manager (CAPM)-AAPM
1481 Intan Zaleha Mutisari Certified Human Resource Analyst (CHRA)-AAPM
1482 Resty Sapitri Liyan Sari Certified Human Resource Analyst (CHRA)-AAPM
1483 Cita Devi Virgianti Certified Human Resource Analyst (CHRA)-AAPM
1484 Atika Amarwaty Certified Human Resource Analyst (CHRA)-AAPM
1485 Sumarjaya Certified Human Resource Analyst (CHRA)-AAPM
1486 Agung Budiman Certified Human Resource Analyst (CHRA)-AAPM
1487 Hery Gunardi Master Wealth Manager (MWM)
1488 Eduardus Tandelilin Master Wealth Manager (MWM)
1489 Kapler A. Marpaung Master Wealth Manager (MWM)
1490 Mr. Sulad Sri Hardanto Master Wealth Manager (MWM)
1491 Dewi Wiranti Master Wealth Manager (MWM)
1492 Trinurcahyo Sucipto, Certified Human Resource Analyst (CHRA)-AAPM
1493 Vileny Ariaty Certified Human Resource Analyst (CHRA)-AAPM
1494 Ihda Arifin Faiz Certified Human Resource Analyst (CHRA)-AAPM
1495 Akhdiyat Setya Purnama Certified Human Resource Analyst (CHRA)-AAPM
1496 Ahmad Arkan Nugraha Certified Human Resource Analyst (CHRA)-AAPM
1497 Aryo Wahyudi Kusuma Certified Human Resource Analyst (CHRA)-AAPM
1498 Mochammad Fauzi Zamzam Certified Human Resource Analyst (CHRA)-AAPM
1499 . Agus Ristono Accredited Supply Chain Analyst (ASCA)-AAPM
1500 Panji Dewa Jayeng Raga Accredited Supply Chain Analyst (ASCA)-AAPM
1501 Dicky Andrean Accredited Supply Chain Analyst (ASCA)-AAPM
1502 Edi Putra Accredited Supply Chain Analyst (ASCA)-AAPM
1503 William Johanes Saputra Accredited Supply Chain Analyst (ASCA)-AAPM
1504 Apriliana Cendraleka Accredited Supply Chain Analyst (ASCA)-AAPM
1505 Sitti Rizki Mulyani Certified Human Resource Analyst (CHRA)-AAPM
1506 Muhammad Ridwan Certified Human Resource Analyst
1507 Erlina Accredited Supply Chain Analyst (ASCA)-AAPM
1508 Fatma Hermining Astuti Accredited Supply Chain Analyst (ASCA)-AAPM
1509 Wandhansari Sekar Jatiningrum Accredited Supply Chain Analyst (ASCA)-AAPM
1510 R. Hendro Budi Saputro Accredited Supply Chain Analyst (ASCA)-AAPM
1511 Titis Shinta Dhewi Certified Digital Marketing Professional (CDMP)
1512 Wilyan Adiasari Certified Digital Marketing Professional (CDMP)
1513 Noval Tajudin Master Project Manager (MPM)-AAPM
1514 Noval Tajudin Certified Marketing Analyst (CMA)-AAPM
1515 Noval Tajudin Certified Management Consultant Professional (CMCP)-AAPM
1516 Noval Tajudin Accredited Supply Chain Analyst (ASCA)-AAPM
1517 Deby Jannati Gustiwi Certified International Pharmacist Professional (CIPP)
1518 Eddy Jusuf Certified Digital Marketing Professional (CDMP)-AAPM
1519 Dewi Indriani Certified Digital Marketing Professional (CDMP)-AAPM
1520 Undang Juju Certified Digital Marketing Professional (CDMP)-AAPM
1521 Juanim Certified Digital Marketing Professional (CDMP)-AAPM
1522 Popo Suryana Certified Digital Marketing Professional (CDMP)-AAPM
1523 Yudhi koesworodjati Certified Digital Marketing Professional (CDMP)-AAPM
1524 Danang Tunjung Ari Purnomo Certified International Project Manager (CIPM)-AAPM
1525 Ilham Pratama Certified International Project Manager (CIPM)-AAPM
1526 Syukran Certified International Project Manager (CIPM)-AAPM
1527 Tommy Tri Utomo Certified International Project Manager
1528 Imam Fachrurrozi Certified International Project Manager (CIPM)-AAPM
1529 Irkham Huda Certified International Project Manager (CIPM)-AAPM
1530 Trinurcahyo Sucipto Certified International Project Manager (CIPM)-AAPM
1531 Akhmad Ittang Anwarsyah Certified International Project Manager (CIPM)-AAPM
1532 Akhmad Frandicahya Certified International Project Manager (CIPM)-AAPM
1533 Khoirul Umam Certified Digital Marketing Professional (CDMP)-AAPM
1534 Heri Subana Certified in Information Technology Service Management (CITSM)-AAPM
1535 Ivan Setiawan Certified in Information Technology Service Management (CITSM)-AAPM
1536 Marlina Certified in Contract Management Professional (CCMP)
1537 Enishaputri Endriastari Certified in Contract Management Professional (CCMP)
1538 Qoliqina Zolla Sabrina Certified in Contract Management Professional (CCMP)
1539 Tantri Mawarsih Certified in Contract Management Professional (CCMP)
1540 Muhamad Alfat Fauzie Certified in Contract Management Professional (CCMP)
1541 Wardhani Prihartiwi Certified in Contract Management Professional (CCMP)
1542 Marsha Arsiana Certified in Contract Management Professional (CCMP)
1543 Wita Risanti Certified in Contract Management Professional (CCMP)
1544 Graynie Syahni Fratami Certified in Contract Management Professional (CCMP)
1545 Yunita Capriati Certified in Contract Management Professional (CCMP)
1546 Alifia Cahya Mareta Certified in Contract Management Professional (CCMP)
1547 Abidzar Al Ghifari Certified Human Resource Analyst (CHRA)-AAPM
1548 Amal Nadzirah Binti Rosallan Master Project Manager (MPM)-AAPM
1549 Saimin Sugito Certified International OSHA Professional (CIOP)-AAPM
1550 Aditya Luqmana Hutama Certified International OSHA Professional (CIOP) )-AAPM
1551 Mashudi Certified International OSHA Professional (CIOP) )-AAPM
1552 Hasan Certified International OSHA Professional (CIOP) )-AAPM
1553 Suwito Certified International OSHA Professional (CIOP) )-AAPM
1554 Abdurrohman Afif Amrullah Certified International OSHA Professional (CIOP) )-AAPM
1555 Muhammad Habibie Certified International OSHA Professional (CIOP) )-AAPM
1556 Hendhi Pirmansyah Certified International OSHA Professional (CIOP) )-AAPM
1557 Rudik Siswanto Certified International OSHA Professional (CIOP) )-AAPM
1558 Nurul Komalasari Certified Marketing Analyst (CMA) )-AAPM
1559 Deni Ramdani Master Project Manager (MPM)-AAPM
1560 Fahmy Rezqi Pramudhito Certified Data Center Infrastructure Practitioner (CDCIP)-AAPM
1561 M. Bagus Rahmatullah Certified Business Analytic Professional (CBAP)-AAPM
1562 Nurnidya Btari Khadijah Certified International Purchasing Professional (CIPP)-AAPM
1563 Adriyana leparissa Certified International Purchasing Professional (CIPP)-AAPM
1564 Wishnu Rukmadan Certified International Purchasing Professional (CIPP)-AAPM
1565 Tri Arief Prasetyo Certified International Purchasing Professional (CIPP)-AAPM
1566 Muhammad Harris Certified International Purchasing Professional (CIPP)-AAPM
1567 Titis Shinta Dhewi Certified Marketing Analyst (CMA) )-AAPM
1568 Tiladela Luhita Certified Marketing Analyst (CMA) )-AAPM
1569 Deddy Kurniawan Certified Marketing Analyst (CMA) )-AAPM
1570 Harry Firmansyah Siregar Certified International Project Manager (CIPM)-AAPM
1571 Reza Ramakhresna Certified International Project Manager (CIPM)-AAPM
1572 Mohamad Firman Subarkah Certified International Project Manager (CIPM)-AAPM
1573 Johnnedy Gumanti Certified International Project Manager (CIPM)-AAPM
1574 Andri Irawan Certified Human Resource Analyst (CHRA)-AAPM
1575 Asep Kurniawan Certified Human Resource Analyst (CHRA)-AAPM
1576 Rahardianto Certified Human Resource Analyst (CHRA)-AAPm
1577 Yun Yun Certified Human Resource Analyst (CHRA)-AAPM
1578 Ayu Nugiantari Accredited Supply Chain Professional (ASCP)-AAPM
1579 Welva Lienita Accredited Supply Chain Professional (ASCP)-AAPM
1580 Yati Delvia Accredited Supply Chain Professional (ASCP)-AAPM
1581 Dieter Fretloh Sinaga Accredited Supply Chain Professional (ASCP)-AAPM
1582 Desie Asrilliani Certified Human Resource Analyst (CHRA)-AAPM
1583 Adhitya Dasha Syafrizaliad Certified in Financial Risk Management (CFRM)
1584 Listya Sugiyarti Certified in Financial Accounting (C.F.A)
1585 Raden Branata Asikin Master Project Manager (MPM)-AAPM
1586 Ira Abilia Agustina Salim Certified International Communication Specialist (CICS)-AAPM
1587 Irmayani Noer Accredited Supply Chain Professional (ASCP)-AAPM
1588 Fitriani Accredited Supply Chain Professional (ASCP)-AAPM
1589 Latief Anggar Kurniawan Certified Marketing Analyst (CMA) )-AAPM
1590 Fero Firman Satya Utama Certified Marketing Analyst (CMA) )-AAPM
1591 Setyo Ferry Wibowo Certified Marketing Analyst (CMA) )-AAPM
1592 Gladis Dwiyanty Ependi Certified Marketing Analyst (CMA) )-AAPM
1593 Taufan Anggara Nugraha Certified in Financial Risk Management (CFRM)-AAFM
1594 Agus Ghozali Certified in Financial Risk Mnagement (CFRM)-AAFM
1595 Suriantama Nasution Certified in Financial Risk Management (CFRM)-AAFM
1596 Suriantama Nasution Certified in Contracting Management Professional (CCMP)-AAPM
1597 Harry Firmansyah Siregar Certified International Leadership Professional (CILP)-AAPM
1598 Yoyom Romya Certified International Leadership Professional (CILP)-AAPM
1599 Alan Dela Febry Sy Certified International Leadership Professional (CILP)-AAPM
1600 Yunita Dinni Setiawati Accredited Supply Chain Professional (ASCP)-AAPM
1601 Agustinus Firdianto Accredited Supply Chain Professional (ASCP)-AAPM
1602 Alexius Sugeng Accredited Supply Chain Professional (ASCP)-AAPM
1603 Mohammad Bilghifari Astian Accredited Supply Chain Professional (ASCP)-AAPM
1604 Wendy Fathony Setiawan Accredited Supply Chain Professional (ASCP)-AAPM
1605 Niko Grataridarga Certified International Communication Specialist (CICS)-AAPM
1606 Nur Fadilah Dewi Certified International Communication Specialist (CICS)-AAPM
1607 Hermawan Saputra Certified International Communication Specialist (CICS)-AAPM
1608 Ngurah Rangga Wiwesa Certified International Communication Specialist (CICS)-AAPM
1609 Muhammad Usman Noor Certified International Communication Specialist (CICS)-AAPM
1610 Wiwiet Mardiati Certified International Communication Specialist (CICS)-AAPM
1611 Pijar Suciati Certified International Communication Specialist (CICS)-AAPM
1612 Mohammad Ridha Certified International Communication Specialist (CICS)-AAPM
1613 Priyanto Certified International Communication Specialist (CICS)-AAPM
1614 Hardika Widi Satria Certified International Communication Specialist (CICS)-AAPM
1615 Istiadi Certified International Communication Specialist (CICS)-AAPM
1616 Kuncoro Haryo Pribadi Certified International Communication Specialist (CICS)-AAPM
1617 Sri Rahayu Certified International Communication Specialist (CICS)-AAPM
1618 Budiman Mahmud Musthofa Certified International Communication Specialist (CICS)-AAPM
1619 Endang Setiowati Certified International Communication Specialist (CICS)-AAPM
1620 Sandra Aulia Certified International Communication Specialist (CICS)-AAPM
1621 Rahmi Setiawati Certified International Communication Specialist (CICS)-AAPM
1622 Mareta Maulidiyanti Certified International Communication Specialist (CICS)-AAPM
1623 Deni Danial Kesa Certified International Communication Specialist (CICS)-AAPM
1624 Amelita Lusia Certified International Communication Specialist (CICS)-AAPM
1625 Devie Rahmawati Certified International Communication Specialist (CICS)-AAPM
1626 Diaz Pranita Certified International Communication Specialist (CICS)-AAPM
1627 Arius Krypton Certified International Communication Specialist (CICS)-AAPM
1628 Radityo Kusumo Santoso Certified International Communication Specialist (CICS)-AAPM
1629 Naldo Certified International Communication Specialist (CICS)-AAPM
1630 Nelly Oktavia Adiwijaya Certified E-Commerce Consultant (CEC)-American Academy
1631 Diah Ayu Retnani Wulandari Certified E-Commerce Consultant (CEC)-American Academy
1632 Almaison Haikal Awal Certified International Leadership Professional (CILP)-AAPM
1633 Aslam Mei Nur Widigdo Accredited Supply Chain Professional (ASCP)-AAPM
1634 Witjaksono Certified Leadership Consultant (CLC)-AMERICAN ACADEMY
1635 Wisnu Sucahyo Certified International Project Manager (CIPM)-AAPM
1636 Endro Tri Pancoro Certified International Project Manager (CIPM)-AAPM
1637 Endang Widiastuti B Certified International Project Manager (CIPM)-AAPM
1638 Gustampera Certified International Project Manager (CIPM)-AAPM
1639 Bernardus Harjo Tetuko Certified International Project Manager (CIPM)-AAPM
1640 Fadjar Agung Hudiarto Certified International Project Manager (CIPM)-AAPM
1641 Munajat Certified International Project Manager (CIPM)-AAPM
1642 Suistiyono Certified International Project Manager (CIPM)-AAPM
1643 Ines Soepinarko Certified International Project Manager (CIPM)-AAPM
1644 Lady Alvina Azzahra Certified International Project Manager (CIPM)-AAPM
1645 Aditya Wardhana Certified International Project Manager (CIPM)-AAPM
1646 Tiara Permana Certified International Project Manager (CIPM)-AAPM
1647 Lana Adi Irmawan Certified International Project Manager (CIPM)-AAPM
1648 Aditya Darmawan Certified International Project Manager (CIPM)-AAPM
1649 Imalia Nurrachma A Certified International Project Manager (CIPM)-AAPM
1650 Yuni M. Panjaitan Certified International Project Manager (CIPM)-AAPM
1651 Novialdi Certified International Project Manager (CIPM)-AAPM
1652 Fajar Mujadid Certified International Project Manager (CIPM)-AAPM
1653 Tera Dria Kispa Certified International Project Manager (CIPM)-AAPM
1654 Mirta Wisdama Solikh Accredited Management Accountant (AMA)-AAFM
1655 Klemensia Erna Christina Sinaga Accredited Management Accountant (AMA)-AAFM
1656 Marlina Widiyanti Accredited Management Accountant (AMA)-AAFM
1657 Kusdiantini Accredited Management Accountant (AMA)-AAFM
1658 M. Rizky Mahaputra Master Project Manager (MPM)-AAPM
1659 Mahbubah Master Project Manager (MPM)-AAPM
1660 Kristia Certified Digital Marketing Professional (CDMP)-AAPM
1661 Fransisca Desiana Pranatasari Certified Digital Marketing Professional (CDMP)-AAPM
1662 Ina Nur Ratriyana Certified Digital Marketing Professional (CDMP)-AAPM
1663 Agus Abdurrahman Certified Digital Marketing Professional (CDMP)-AAPM
1664 Rr. Siti Muslikhah Certified Digital Marketing Professional (CDMP)-AAPM
1665 Rr. Sita Dewi Kusumaningrum Certified Digital Marketing Professional (CDMP)-AAPM
1666 Sugiyo Certified International Leadership Professional (CILP)-AAPM
1667 NIKO DWI SURYANTO Certified International Information Security Manager
1668 DWINA ANNE NAPITUPULU Certified International Information Security Manager
1669 PEIK SUGIARTO Certified International Information Security Manager
1670 Efri Ipda Siregar Certified International Project Manager (CIPM)
1671 Nola Vila Violita Accredited Supply Chain Professional (ASCP)-AAPM
1672 Alldila Nadhira Ayu Setyaning Certified International Leadership Professional (CILP)-AAPM
1673 Utik Bidayati Certified International Leadership Professional (CILP)-AAPM
1674 Virda Yaza Yulia Certified in Financial Accounting (C.F.A)-AAFM 1675 Virda Yaza Yulia Certified in Financial Accounting (C.F.A)-AAFM
1676 Thalita Syifa Fatimah Certified International Communication Specialist (CICS)-AAPM
1677 Andoko Setia Prabowo Accredited Supply Chain Professional (ASCP)- AAPM
1678 Fanuel Wahono Master Quality Manager (MQM)-AAPM
1679 Sanggar Amri P. Pasaribu Certified International Information System Auditor (CIISA)-AAFM
1680 Luh Ismayanti Rai Certified Human Resource Analyst (CHRA)-AAPM
1681 Fajar Hari Utomo Certified International Information System Auditor (CIISA)-AAFM
1682 Hasto Gesang Wicaksono Certified International Information System Auditor (CIISA)-AAFM
1683 Mohammad Yasin Abdulfatah Certified International Project Manager (CIPM)-AAPM
1684 Rifa'i Rahman Saputro Certified Digital Marketing Professional (CDMP)-AAPM
1685 Pugar Indriawan Certified Digital Marketing Professional (CDMP)-AAPM
1686 Titis Sosro Triraharjo Certified Digital Marketing Professional (CDMP)-AAPM
1687 Jeanne Ellyawati Certified Digital Marketing Professional (CDMP)-AAPM
1688 Stephanus Edi Pambudi Certified Digital Marketing Professional (CDMP)-AAPM
1689 Hafidz Hanafiah Certified Marketing Analyst (CMA)-AAPM
1690 Khaeruman Certified Human Resource Analyst (CHRA)-AAPM
1691 Mamay Komarudin Certified in Financial Accounting (C.F.A)-AAFM
1692 Lois Frederick Certified Marketing Analyst (CMA)-AAPM
1693 Benny Chandra Certified International Tax Analyst (CITA)-AAPM
1694 Mulyadi Tan Certified Human Resources Analyst (CHRA)-AAPM
1695 Bos Santos Certified Human Resources Analyst (CHRA)-AAPM
1696 Mohd Saleh H. Umar Certified Human Resources Analyst (CHRA) AAPM
1697 Arliza Putri Wardhani Accredited Supply Chain Analyst (ASCA)-AAPM
1698 Samuel Manurung Certified Accredited Project Manager (CAPM)-AAPM
1699 Fitra Andjaya Certified Accredited Project Manager (CAPM)-AAPM
1700 Febri Akbar Certified Accredited Project Manager (CAPM)-AAPM
1701 Nalendra Tri Kurnia Certified Accredited Project Manager (CAPM)-AAPM
1702 Fanadian Mahali Certified Accredited Project Manager (CAPM)-AAPM
1705 Erliana Banjarnahor Certified in Financial Accounting (C.F.A)-AAFM
1706 Hendra Darmawan Master Quality Manager (MQM)-AAPM
1707 Ellen Vande Nauli Master Quality Manager (MQM)-AAPM
1708 Vifki Leondo Master Quality Manager (MQM)-AAPM
1709 Joko Hardiyanto Master Quality Manager (MQM)-AAPM
1710 Zulkarnain Rosadi Master Quality Manager (MQM)-AAPM
1711 Stefan Adhie Nugroho Master Quality Manager (MQM)-AAPM
1712 Wildan Jazuli Master Project Manager (MPM)-AAPM
1713 Yuyus Yudistria Accredited Supply Chain Analyst (ASCA)-AAPM
1714 K. Prihartono AH Certified marketing Analyst (CMA)-AAPM
1715 K. Prihartono AH Master Project Manager (MPM)-AAPM
1716 Raden Branata Asikin Certified Sales Management Professional (CSMP)-AAPM
1717 Azhar Harris Chartered Risk Management Officer (Ch.RMO)-AAPM
1718 Agung Wahono Chartered Risk Management Officer (Ch.RMO)-AAPM
1719 Ixora Adisti Chartered Risk Management Officer (Ch.RMO)-AAPM
1720 Nur Achmad Subandi Chartered Risk Management Officer (Ch.RMO)-AAPM
1721 Kurniawan Widi Pramana Chartered Risk Management Officer (Ch.RMO)-AAPM
1722 Supriyono Chartered Risk Management Officer (Ch.RMO)-AAPM
1723 Fildza Novadiwanti Chartered Risk Management Officer (Ch.RMO)-AAPM
1724 Bekti Widiharso Chartered Risk Management Officer (Ch.RMO)-AAPM
1725 Arzinar Yoga Rusdyantoro Chartered Risk Management Officer (Ch.RMO)-AAPM
1726 Advendy JD Hasibuan Chartered Risk Management Officer (Ch.RMO)-AAPM
1727 Erwin Pieter Tarigan Chartered Risk Management Officer (Ch.RMO)-AAPM
1728 Bambang Sujatmoko Master Date Center Professional (MDCP)-AAPM
1729 Rifqy Master Date Center Professional (MDCP)-AAPM
1730 Taryono Certified Sales Management Professional-(CSMP)
1731 Afif Al Akbar Associate Supply Chain Analyst (ASCA)-AAPM
1732 Moch. Agung Perdana Associate Supply Chain Analyst (ASCA)-AAPM
1733 Tika Warisman Associate Supply Chain Analyst (ASCA)-AAPM
1734 Andi Teguh Hermawan Associate Supply Chain Analyst (ASCA)-AAPM
1735 Adhitya Ferdian Adha Associate Supply Chain Analyst (ASCA)-AAPM
1736 Rahma Alrosdi Wira Putri Associate Supply Chain Analyst (ASCA)-AAPM
1737 Raden Cahya Magistra Putra Associate Supply Chain Analyst (ASCA)-AAPM
1738 Dina Farhanah Associate Supply Chain Analyst (ASCA)-AAPM
1739 Mukhammad Ayyub Associate Supply Chain Analyst (ASCA)-AAPM
1740 Mahfuzh Zuhdi Associate Supply Chain Analyst (ASCA)-AAPM
1741 Muhammad Yudiarto Associate Supply Chain Analyst (ASCA)-AAPM
1742 Muhammad Thoriq Fattah Hadi Associate Supply Chain Analyst (ASCA)-AAPM
1743 Dean Tirkaamiana Associate Supply Chain Analyst (ASCA)-AAPM
1744 Rexy Darmawan Certified Business Analytic Professional (CBAP)-AAPM
1745 Muhammad Fajri Certified Business Analytic Professional (CBAP)-AAPM
1746 Hariyani Master Quality Manager (MQM)-AAPM
1746 Fatiha Wahyudi Certified in Financial Risk Management (CFRM)-AAFM
1747 Ira Abilia Agustina Salim Certified Sales Management Professional (CSMP)-AAPM
1748 Luis David Hermanto Certified International Project Manager (CIPM)-AAPM
1749 Sriyanto Certified Risk Analyst (CRA)-AAFM
1750 Dede Agung Nugroho Associate Supply Chain Professional (ASCP)-AAPM
1751 Ary Sunantiyo Chartered Asset Management Professional (CAMP)-AAPM
1752 Gunadi Sumantri Chartered Risk Manager Professional (CRMP)-AAPM
1753 Amirudin Master Financial Controller (MFC)
1754 Aceng Abdul Hamid Certified Marketing Analyst (CMA)
1755 Ardhian Bayu Firdauz Certified Business Analytic Professional (CBAP)-AAPM
1756 Teddy Fanani Certified Human Resource Analyst (CHRA)-AAPM
1757 Arzinar Yoga Rusdyantoro, Certified Business Analytic Professional (CBAP)-AAPM
1758 Ubay Muhammad Noor Certified Business Analytic Professional (CBAP)-AAPM
1759 Warno Certified Business Analytic Professional (CBAP)-AAPM
1760 Fahimah Rahmadian Certified Business Analytic Professional (CBAP)-AAPM
1761 Ahmad Sidik Certified Business Analytic Professional (CBAP)-AAPM
1762 Hendra Sutrisno Napitupulu Certified Business Analytic Professional (CBAP)-AAPM
1763 Irvan Supradana Certified Business Analytic Professional (CBAP)-AAPM
1764 Salvatus Susanto Certified Business Analytic Professional (CBAP)-AAPM
1765 Leonilla Vari Amrta Certified International Communication Specialist (CICS)-AAPM
1766 Arifianti Certified International Communication Specialist (CICS)-AAPM
1767 Wilda Cahya Ningrum Certified International Communication Specialist (CICS)-AAPM
1768 Debby Christyna Marina Certified International Communication Specialist (CICS)-AAPM
1769 HMS Ridwan Certified Human Resource Analyst (CHRA)-AAPM
1770 R Jusdijachlan Certified Human Resource Analyst (CHRA)-AAPM